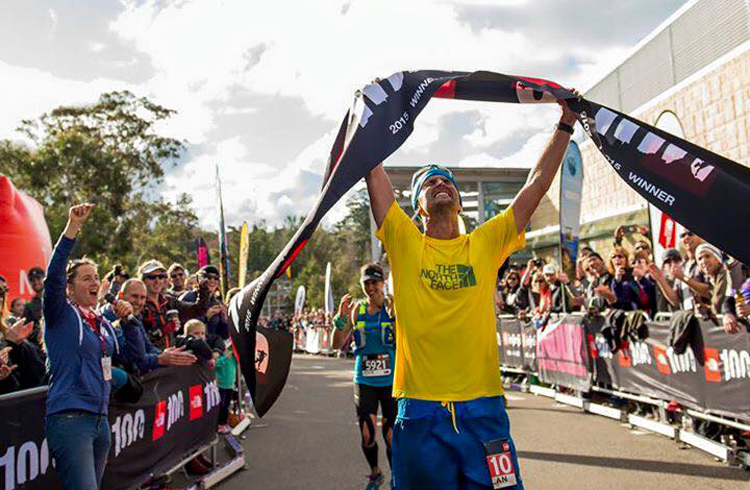 Before Dylan Bowman became an esteemed long-distance runner, he was a lacrosse player. Having made the switch to ultrarunning, it wasn't long before Bowman was finishing at the sharp end of major races. A third-place finish at last year's Western States 100-miler was followed by a win at this year's Tarawera 100K. Majell Backhausen caught up with him to talk inspiration, altitude training and alcohol sponsorship.
You took the headlines with your 2015 win at Tarawera Ultra 100km in New Zealand. Leading up to this event, what key training did you implement through the often-challenging festive season?
I raced the TNF 50 mile championships here in California in December, which always provides a huge bump in fitness. After that, I took the holiday season very casual and didn't do any structured training. Basically, I just went out for a jog with my girlfriend a few days per week and enjoyed lots of food and cheer. While I may have lost a bit of race fitness, I gained motivation for training again and got serious about Tarawera preparation around the first of the year. In the critical weeks before the race, I focused heavily on flatter speed sessions and worked on my turnover. This helped immensely for the fast terrain in the last 40k of the Tarawera course.
You work for the company Hypoxico, who specialise in altitude training systems. Do you use this when training for sea-level events too?
A lot of people think of it only as a technology that helps for high altitude races but it helps just as much or more for sea level events. It's well understood that people who live and train at altitude come into every race with a physiological edge and our system allows people who dwell at sea level to have the same benefit. I find it makes me feel better day to day well beyond just training so I am really consistent in my altitude training.
It is said that Ultra running is 90% mental and the rest is in your head. What have you taken from participating in other sports that you now apply to Ultra Running?
The biggest thing I took from my Lacrosse career is just the commitment to a daily practice of athletic improvement. It made it really easy to maintain consistency and enthusiasm for daily training. It didn't help much for mental strengthening but the athleticism transferred well and the training came easy.
If you could travel to any country to compete, where would it be?
Chamonix, France
Brewery sponsors are becoming popular in the Ultra camp, are you working on any collaboration?
Haha. I'm not currently in conversations with any brew sponsors but would be open to exploring those opportunities.
If you travelled by plane to a competition and your baggage got lost, what is the one piece of kit you would want to have with you?
The North Face Ultra Cardiac trail shoe
Looking forward, will you be racing consistently throughout the whole year? Or do you have a dedicated period of rest/ no racing? And it this something you have had in the past?
Yes, I will race consistently through the end of August and then take a nice long rest in the fall. I enjoy training a lot but I equally enjoy my periods of rest. I take lots of small breaks throughout the year and I think it's very important to make that a priority for top performance and longevity.
I understand you own a dog, did you choose a breed that is renowned for its endurance and will she most likely become an ultra training partner?
Yes, we have an 8 month old German Shorthaired Pointer named Milly who is an incredible athlete. She's too young to do lots of mileage now but eventually she will be a great ultra training partner.
Who has been the biggest influence in your running career to date?
My coach Jason Koop by far. He's taught me so much and has allowed me to take several big steps forward in my racing career.
With the guidance of a coach are you still able to incorporate run routes you really enjoy, such as Mt. Tam into your training week? And is elevation change something you target weekly in your training?
Yes, absolutely training for top race performance is the number one priority but it's also very important to enjoy training and maintain your love for the sport throughout the year. We do incorporate a lot of soul rejuvenating runs along with a lot of soul crushing workouts. It's a great balance and I feel it's allowed me to get better as an athlete while also growing my passion for the sport.
Due to your ability to simulate high altitude training, are you able to then ride in the cargo hold of a plane for long haul journeys? And if so, is it a cheaper ticket?
I wish.
Dylan Bowman is a proud ambassador for The North Face