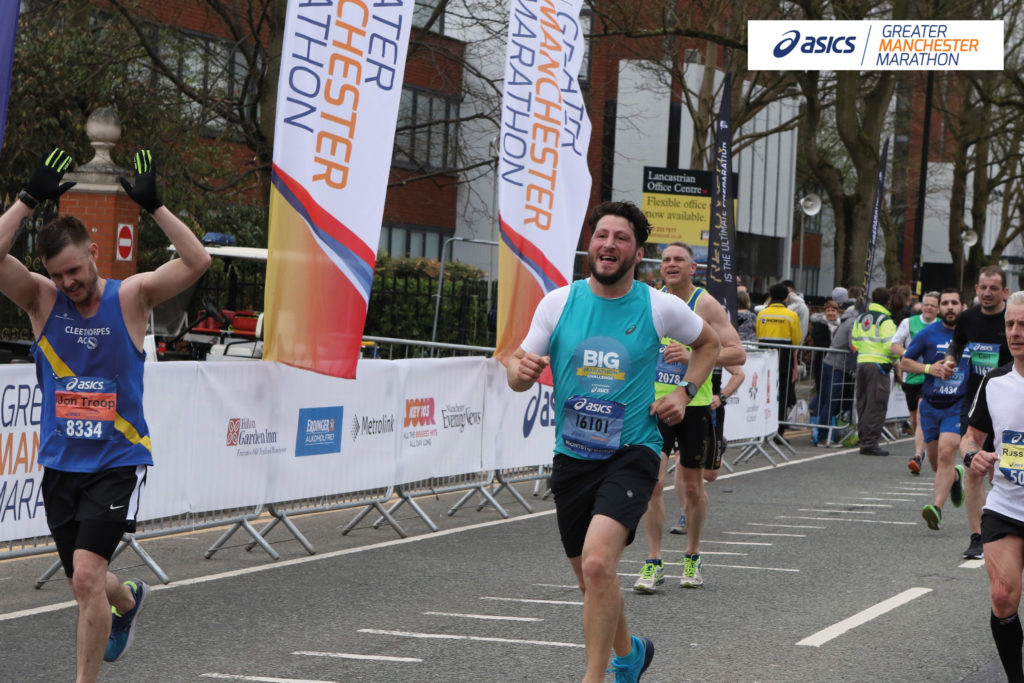 Congratulations on the rapid race, Mo [3:37:09]! Are you a broken man?
I'm starting to think I should have worked harder during the marathon, because I feel alright! I think a lot of it is mental, though, because when you come out of it knowing you've done well it buoys your spirits.
Did you enjoy a stress-free build-up?
I had the usual pre-race jitters—probably more than I ever have. I usually do local races, which are no big deal in terms of logistics, but I think because this one involved travelling up the day before (and making sure I had enough food in the car to eat!) it built it up.
We all [the Big Marathon Challenge members] went out for an Italian meal the night before the race, and we were having all the usual conversations trying to play down how much we've trained and how confident we were.
I woke up the next day and thought, I don't know if I'm ready! But I got my kit on and my wife, Laurie, said, "You do your bit and we'll do our bit [supporting] on the course." So that was really nice and helpful.
And the race itself…it seems it couldn't have gone much better?!

Yeah, it was great! I had spoken to Ben just before the race, and he made sure I was conservative. I was saying, "I think I can probably get 3:30!" He said, "Based on what you're telling me and looking at what you've done in training, you probably could, but you don't want to go out for 3:30."
So we agreed that I'd aim for sub-3:40. It was actually difficult to hold myself back for the first half and not get caught in the flow.
I held back until halfway, then at halfway I saw my wife and three girls, so stopped to give them a hug and kiss. Then I picked up the pace to around 8:15min/miles and made it to mile 16. I was waiting for it all to go a bit Pete Tong, but it didn't so I pushed a little bit more.
I made it 20 and then I thought, right I'm just going to go for this now. I picked the pace up to around 8:05min/miles and managed to hold it all the way to the finish.
I spoke to Stuart [ASICS Pro Team performance psychologist] before the race and he said to look out for the good runners around me. He said, "If you spot one, latch onto them, and if there's a pack, stick with the pack." There was this guy just ahead call Steve, which I know because everyone was shouting, "Go on Steve!" I didn't have my name on my top, so I was pretending I was him.
I stayed on the back of him for the last four miles, because he was running like clockwork and he looked like he knew what he was doing. When we got to the last 400 yards, I thought, right, whatever I've got now, I'm just going to give it my all. I went up to Steve after the race, to say thanks for pulling me along, and he said, "You got me there, at the end!"
As you're now a certified marathon master, what would your advice be to other 26.2- mile hopefuls?

There's no getting away from the fact that you need to get more miles in your legs. You need to run faster, and you need to run further. But having the guys from ASICS reassure us—telling us we were eating the right food, doing the right things mentally and so on—helped massively.
This whole process has made me realise that running really is about mind over matter. Of course, you've got to know your limits, but you also have to understand your understanding of those limits…is limited!
This whole Big Marathon Challenge experience has been really, really positive. I feel like I'm part of a running community now, which I wasn't before.
Coach's comment
Mo's improvement is beyond even my wildest expectations, and his time left me speechless. He absolutely smashed it! His training wasn't perfect—we had to miss a few runs here and there—but that is normal.
Instead of worrying about what he hadn't done, he focused on the amazing strides he made as an athlete and was rewarded accordingly!