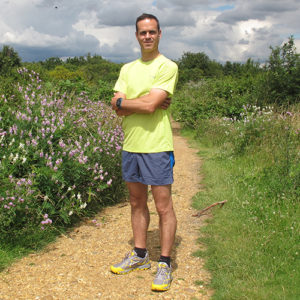 Why did you apply to be part of Project Trail?
The chance to be part of a team. I'm also excited to get some specific coaching and help in trying to achieve my goals. It's difficult to know exactly what those goals are in terms of time; I simply want to go as quick as I possibly can.
What's your running history?
I started running about six years ago at the tender age of 35. I was 110kg and I had just been taken to hospital suffering what they thought was a stroke. It wasn't a stroke but an atypical migraine – and a wakeup call.
With an initial goal of being able to run 1K, I started by walking the dog when I got back up the hill without breathing hard or having to stop, I started to run with him. Gradually, running just became more and more important in my life. I realised that it wasn't just me that was benefiting, but my family too. My wife and I were spending much more time together and we took every chance to get out on the trails together.
What's your greatest running achievement?
Completing the Tarawera 60K in New Zealand. It was my first race. It's an absolutely beautiful course. You don't hear a car for the whole of the race, it's just redwood forest.
What do you like most about trail running?
It's so peaceful. You don't get people running with headphones in or car noise everywhere. It's just peace and quiet, you and your own mind. In cities everyone is in a constant rush; on trails you get a chance to appreciate what's around you.
What do you find appealing about an ultra distance race?
It's about pushing yourself. I prefer to go further and further, rather than faster and faster. Eventually, I want to do a 100-miler. I'm planning that for 2018, so this is a great stepping-stone towards that.
Who, if anyone, is your running hero?
Meb Keflezighi [winner of the 2014 Boston Marathon]. My wife and I met him in New York in 2014. We went for breakfast with him after he'd come fourth in the New York Marathon. He was such a nice guy. He copied my wife's breakfast. She was having bagel, cream cheese and jam. He said: "I've never seen that before but it looks great. I'm going to try it." The thing that stuck in my mind, though, was when he said that the year before, he could have pulled out at mile 21. He was feeling awful and knew he wouldn't break 2:20, and then he though of all the runners who would be really, really happy with 2:20 and so he knew he just had to keep going.
Describe yourself as a runner in one word
Ugly!