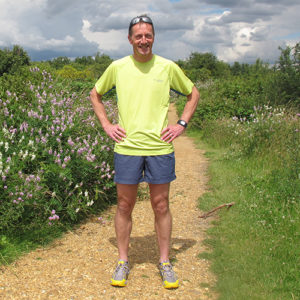 Why did you apply to be part of Project Trail?
Off-road running just excites me. I love being active outdoors. Growing up, we used to go camping a lot. I hadn't heard of the event before but it looked good. The chance to get some focused training is also appealing as I tend to just run without a real sense of structure. I really fancy having some guided training, and I think that could make a significant difference to my performance.
What's your running history?
Running is something I've got back into later in life. My main sport when I was younger was hockey. I played at an international standard and still play now. I also do a bit of mountain biking with me kids. I guess it all counts as cross-training, but I'm looking forward to making running a bit more of a focus.
What's your greatest running achievement?
I think the endure24 event I did this year. It was solo and I pushed myself hard, even though I went away from it thinking I could have given more. But you always do, don't you? I gone into it badly under-training but my determination got me through. And I enjoyed it, mostly.
What do you like most about trail running?
For me, it's all about being out in the countryside. I love walking – we have dogs at home – and for me it's a way to explore. Running allows me to cover more ground. It's 'me' time, it's solo time. I can do a lot of thinking. It's also character-building: to get out there and give it your best.
What do you find appealing about an ultra distance race?
The further you go, you're in a smaller and smaller club of people who do it. More people have done marathons now, but it's still a relatively small number of people who have pushed it to the next level. I like the challenge. I just want to see how far I can go. I have limitations: I have a job and a family, and I'm not going to be able to train 150 miles a week. But I am competitive with myself and interested in seeing what's possible.
Who, if anyone, is your running hero?
I spent the summer of '81 in France. I was 16 and I remember watching Cram, Ovett and Coe swapping world records for fun. I just loved watching them. The rivalry was fantastic. It was brilliant to watch, and I found it very inspiring. All three of those are running heroes of mine.
Describe yourself as a runner in one word
Determined.