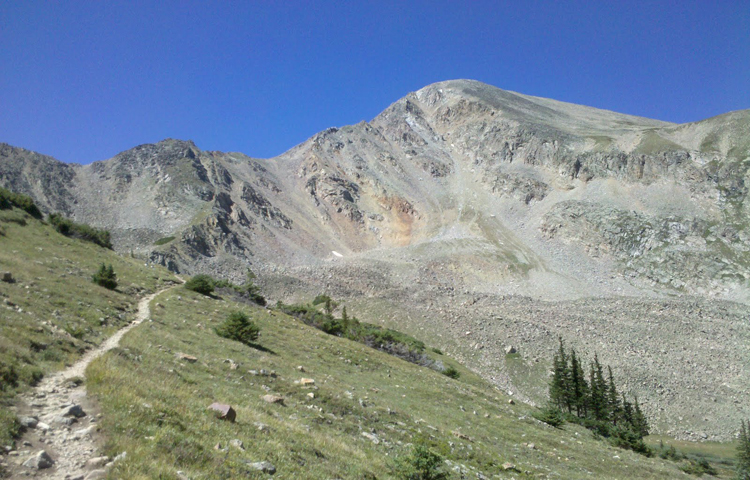 Leadville 100 is the biggest 100 miler around. Perhaps not in terms of elite depth of field, although there is absolutely no arguing that it attracts some phenomenal runners.
What makes this race so prestigious is the monumental commitment from the runners, pacers and crew alike.
Leadville is a 100-mile 'out & back' foot race. There are nine fully stocked checkpoints and a further handful of water stations with minor supplies.
Six hundred and ninety people registered for the 2014 Leadville LT100 out of the 800 available places, with a 30-hour cut-off strictly enforced.
You start at about 10,000ft and the race tops out over Hope Pass at a rather breathless 12,600ft.
Running in the Rockies can be pretty technical and Leadville is no different. Although there are a few road sections and dirt paths, much of the course is inundated with sizeable rocks and often-tricky footing.
At one particularly low moment, I found myself muttering the words: "My kingdom for a Hoka".
Seriously though, shoe choice will play a key role so choose wisely. Make sure you bring two pairs as there's a whole load of river crossings towards the back end of the out-and-back course
A cheeky change of shoe might just make the difference to your race.
If you're travelling from the UK, have absolutely no qualms about either flying solo or going light with your crew. There really is no other race quite like it.
A painful experience
Saying that, I did not enjoy a single step of this race.
The race started at 4am on Saturday and I'm just going to quickly give you a run through of the previous days' events that ultimately ended my race before it even began.
Tuesday 12 August: Four hour slow hike up to Peak 8 in Breckenridge for my birthday. I didn't take any water – moron.
Wednesday 13 August: One hour drive to Leadville to meet some fellow runners and chat about the course. Normally I don't drink coffee the week before a race, specifically to avoid the diarrhetic effects.
I had a lot of coffee – moron!
Thursday 14 August: My world was spinning.
Any movement whatsoever was rewarded with the immediate feeling that I was going to throw up.
I distinctly remember waking up in the middle of the night with such a dry mouth/throat that I would have sucked the moisture from a urinal stone had one been handed to me.
Instead, in the morning I was eyeballing one for a good 20 minutes as I hung out in the toilets willing myself not to be sick.
The only thing to do was to lie-down, stay still and try to sleep it off.
Friday 15 August: A litre of Coca-Cola had at least resolved half the problem, and other than the warming glow behind my forehead, I felt fine.
Just a little altitude sickness, but I was all good now!
It was early to bed that night with a small headache that reminded me of the day before.
Between the hours of 8pm and 3am, I filled four 885ml Gatorade bottles with pee.
Why was I peeing into bottles? 'Cos I've been living in a darn van for two-and-a-half weeks and had conveniently parked 100 yards from the start.
Saturday 16 August: 3:55am – I was certainly afraid of this race.
I tucked myself in a good 40-50 places from the front in the pen knowing that there we were perhaps five to six miles away until we hit Turquoise Lake before filtering into single track. I had time to decide whether to drop down to a slower pace or step up with some of the bigger kids.
4am – The race begins with a rendition of the National Anthem and shooting of a shotgun. I LOVED this!
It took three miles before I realised I was about as useful as a strawberry at Wimbledon in December.
There was no way I was going to make 100 miles. Crap! I'll be lucky if I make 50. Frankly, I remember being happy to have made five!
Quite honestly, I would have dropped at checkpoint one (13.5 miles) had there not been a good 200 odd people there cheering. I just felt knackered after five miles.
I ate. I drank. I focused solely on where my feet were going. I had no idea where the first three hours went.
I ran/walked the 10 miles up to CP2, mostly the latter.
CP2 was much the same as CP1 in terms of support. Something went wrong because I was leaving CP2 on the short six-mile walk to CP3.
It was a nice morning and quite frankly I had nothing better to do even if it took me the full 30-hour cutoff to make it there.
My thought process was this:
5 miles in: Can I make 100 miles – No way! Can I make 50 – Hmmm. Can I make CP1 – Yes.
CP1: Can I make 50 miles – No way! Can I make Twin Lakes (40miles) – Hmmm. Can I make CP2- Yes.
CP2: Can I make CP3 – You're an idiot! Can I run – You're an idiot! Can I stop now – YOU ARE AN IDIOT!
I dropped at CP3. I did 29.5 miles in 5hrs 49mins.
Down but not out
So how do I feel? To be honest, I'm not massively bummed just yet.
As hard as I trained for this, there's a strong feeling of only being able to do what you're body is going to let you.
At the end of the day it's only a race. There's nothing like having your birthday, Leadville and the 23rd anniversary of your father's passing in a six-day period to make you realise that sometimes these things really don't matter.
Colorado 2014 – an AWESOME adventure.