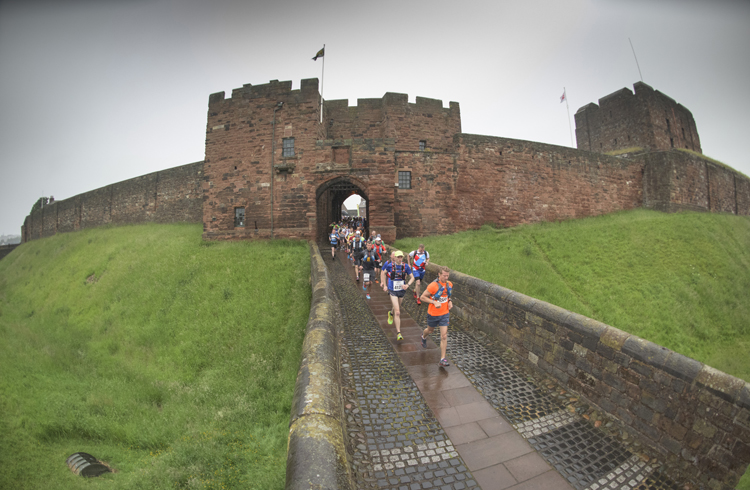 'Push'. 'Be a hero'. Two small reminders that I'd written on my wrist next to the timings for my race plan. That small bit of inspiration to keep the wheels in motion when it starts to hurt. And The Wall really does hurt.
The concept of this race is fantastic. Tracing its way along Hadrian's Wall from Carlisle to Newcastle, there's potential for mile upon mile of Northern country trail. The reality is that your feet very rare get much rest from pavement, and it certainly feels that way once you finish. Fast it may be, but after a while I got bored of playing chicken with cars on A-roads. I also don't remember seeing much of 'The Wall' other than at mile 55 when, after inhaling too any Maoams, I encountered a wall of my very own.
Starting at Carlisle Castle, I had one aim for the day: to knock out the 69 miles to Newcastle in anything under 10 hours. I was willing to throw caution to the wind to get this done, so we set off fast. Four of us punched out 7:20min/miles in silence for the first seven miles, until one of the runners commented on the light rain that was keeping us cool. Too polite to ignore the comment, the rest of us "hmm'd" in agreement. It was oh so very British. I smiled, then picked up the pace. We were dragging out the field quicker than most people might have wanted, I knew. I also knew it was going to come back and bite me in the ass later. I had no choice but to be OK with that. 'Push'. 'Be a hero'.
The event is organised by Rat Race and much of it was extremely well put together. However, there were times when it seemed a little bit less of a Rat 'Race' and more of a Rat 'Run'. Arriving at nearly every checkpoint, it seemed the only thing they were worried about was how well signposted the route was. Which, to be fair, they had done an excellent job with – and this is coming from a guy who nearly always gets lost trying to get out of tube stations. Directions aren't my strong point. It wasn't until mile 62 that someone offered to fill a water bottle for me and every other checkpoint they didn't even bother taking the cling film off the food. It was very much a case of "don't mind me, I guess I'll just be on my way then". I even got told off by the race director for filling up a 500ml soft flask at one of the water stations. "This water is really only for drinking," he said. I didn't think it was worth pointing out that that was exactly what I intended to do. It definitely felt like a race that catered for those in the field happy to take a little extra time out there, rather than for the guys who wanted to race hard. Fair or unfair? I would love to know what you think.
By the time I made it onto the quayside, I had lost first position and had decided that I'd give the last three miles a go and do my best to close the five-minute gap. I'd had some low points and dropped way too much time over parts of the second half of the course. I knew it was going to hurt but if I was going to have a shot, I'd have to give it everything. I held on to 7:30min/mile pace for as long as possible. The crowds down at the quay who were out for a Saturday afternoon drink in the sun, and clearly having a better time than me, realised something was going on and cheered me the whole way down into Newcastle. The old course record was 10hrs 10mins. I came in at 9hrs 52mins – just over two minutes behind the leader and 30-odd minutes ahead of second place. You can't really complain at an 8:35min/mile average pace, especially with 3,500ft elevation over 69 miles, but something inside wouldn't let me be happy. It's moments like these that keep you hungry. That get you out of bed to train. That make you write those little messages on your wrist to keep you motivated. I'd definitely come back and do it all again next year. 'Push'. 'Be a hero'.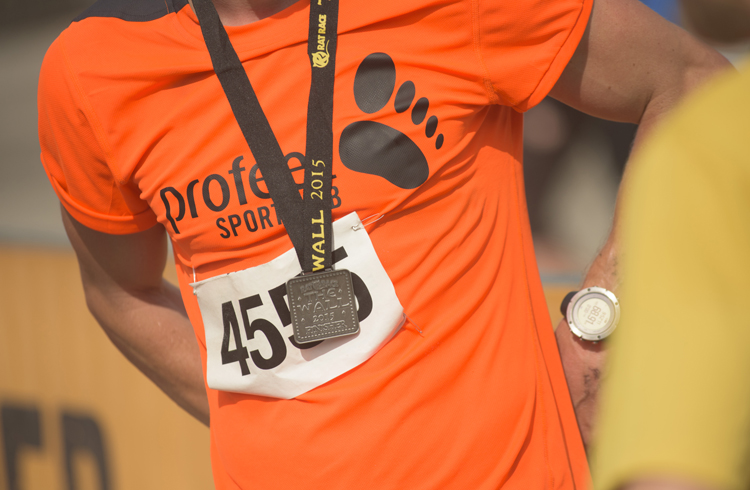 Facebook: Max Willcocks Twitter: @maxwillcocks Instagram: MaxWilko
Strava: https://www.strava.com/activities/329714099
Website: http://ratracethewall.com
Team ProFeet: http://www.profeet.co.uk