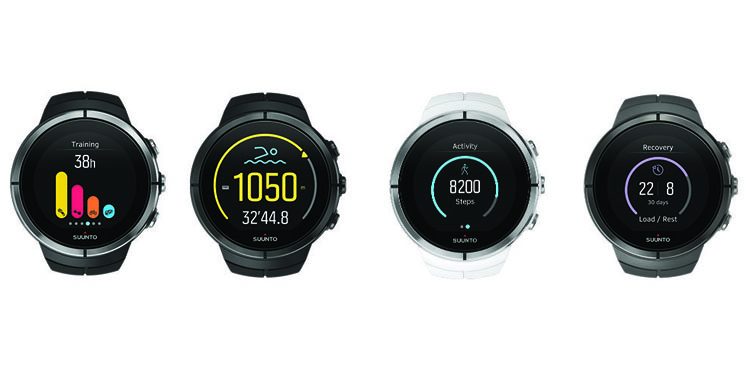 Suunto has today unveiled its latest collection of multipsort watches.
The Suunto Spartan Ultra collection is marketed as a "premium multisport GPS watch for athletes and adventurers".
Handmade in Finland and water-resistant to 100 meters, the watches sport an extremely durable color touchscreen with a wide viewing angle and great visibility in bright sunlight. For your multisport adventures, Suunto Spartan Ultra offers guided route navigation, a digital compass and decent battery life.
In addition, it offers heart rate measurement, an inbuilt accelerometer and a series of insights on your progress across a multitude of sports. Runners can choose a basic running mode that offers the essential information for running, or an interval running mode, a trail running mode, and much more.
In addition, Suunto Spartan Ultra monitors your overall activity 24/7 with daily and weekly steps, calories and active time. Pair the watch with Suunto Movescount App to get smart mobile notifications. The watch will also keep you up to date on your personal bests by sport.
"People have been asking about what's next after Ambit3 for quite some time now," says Sami Arhomaa, Suunto's performance business unit director. "So it's a great pleasure to announce our next generation Suunto Spartan solution for athletic and adventure multisport."
The solution comprises of the Suunto Spartan Ultra watches, a renewed Suunto Movescount service and mobile applications for both iPhone and Android.
"In a fast-paced world with an overwhelming flood of information, athletes need better tools to determine how to efficiently achieve their goals," says Arhomaa. "People who are driven by the passion to progress want to know if they are doing things right. More and more people are reaching out to communities of like-minded people for guidance and inspiration. With the Spartan solution, we are building on the insights we've gained through our constant dialogue with athletes and coaches around the world."
The Suunto Spartan Ultra collection includes four models: Suunto Spartan Ultra All Black Titanium, Suunto Spartan Ultra Stealth Titanium, Suunto Spartan Ultra White and Suunto Spartan Ultra Black – each available with or without Suunto Smart Sensor for heart rate monitoring. The RRP price of the Suunto Spartan Ultra Titanium will be £585 and Suunto Spartan Ultra £545. Prices with a HR sensor are £40 higher.
Further details of the product will be released in July 2016. The watches become available in August, and the solution will continue to grow in functionality via SW, service and application updates during the remaining year.
Read more about the Suunto Spartan Ultra at www.suunto.com/spartan