Want to improve your recovery and performance? Try compression wear. MR talked to Cindy Liu, General Manager of Merchandise – Compression at 2XU and James Broatch, Research Fellow at the Australian Institute of Sport, about just why you should dress to compress
MR: How has technology moved on in compression wear?
CL: Muscle support remains a key benefit of all 2XU compression but more recently we have moved to technology that targets key muscle groups used in certain sports and activities with even greater power, yet without making the product significantly heavier or compromising comfort or flexibility – this technology is featured within our MCS (muscle containment stamping) compression range. We've also added reflective options to improve runner safety in low-light conditions, and included advanced pocketing options to meet every runner's needs – a centre pocket for a smart phone, a small open mesh pocket for nutrition and gels, and a zip pocket for keys and cards. Understanding a runner's needs and supporting these via intelligent design are just as important as continuously advancing our technology.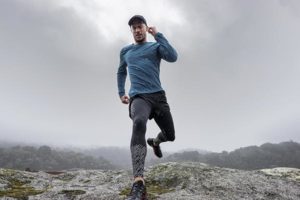 MR: Has this changed the key benefits? And what are these?
CL: 2XU's MCS (muscle containment stamping) compression has further enhanced the existing benefits of compression, such as reduced muscle fatigue and soreness, by providing more targeted power and greater support to key muscles.
MR: Is compression wear pre, during or post exercise? Where would runners feel the most benefit?
JB: Most of the benefits of compression are seen during exercise and in the post-workout recovery period. As confirmed by research conducted at the Australian Institute of Sport, compression benefits specific to runners include 19% reduced muscle movement, gains of up to 10.6 seconds over a 5km repeat run performance, 4.8% increased blood lactate removal, 47% reduced muscle soreness, and reduced thigh swelling by more than 1cm when worn during the post-exercise recovery period.
MR: In a nutshell, what's the theory behind the science? 
JB: A lot of the benefits associated with compression relate to an improvement in blood flow, including both the delivery of blood to the exercising muscle and the return of blood back to the heart. As a result, compression is thought to improve the delivery of oxygen and nutrients to the muscle to improve performance, and aid in the removal of waste products after exercise to improve recovery. Other benefits include reduced muscle oscillation (or muscle movement), greater proprioception (or body awareness) and reduced muscle damage and inflammation post-exercise.
MR: How can compression evolve? What are manufacturers looking at in terms of future proofing garments?
JB: From a research perspective, the Australian Institute of Sport will focus on three key areas over the next few years. These relate to the effects of compression on 1) blood flow and the effect this has on exercise performance and muscle recovery, 2) reducing the stress associated with long-haul travel and 3) joint awareness/proprioception and how this relates to foot placement during running. The AIS researches and endorses 2XU compression, and the research we undertake is used by 2XU to advance its compression technology and inform future product development. There's still a lot we can learn about the benefits of compression in sport, which is really exciting.
MR: Runners are a cynical breed – what's the elevator pitch that will get them to change their minds on compression wear?
JB: Considering the plethora of garments available on the market, often the science to support the use of sports compression is lost. In the past 25 years, hundreds of research studies have been published regarding the effects of compression. When considering these findings as a whole, there is overwhelming evidence to prove that compression helps athletes both during and after exercise. Additionally, research has shown that compression is beneficial for participants of all abilities across many different sports and activities, from endurance sports such as running to high-intensity training and team sports.