A good pair of running sunglasses will do three things perfectly: Protect your eyes from harmful UV rays, sharpen your vision to help you avoid obstacles, and enhance your running performance through increased comfort.
To help you find your perfect pair, we've researched the 10 best pairs of men's running shades that can be yours for less than £100 in 2017.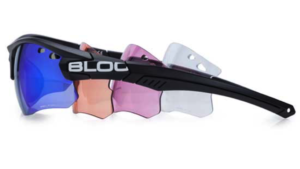 Bloc Titan XB630
Why commit to just one type of lens when you can have four? Bloc's Titan XB630 running sunglasses feature a convenient lens replacement system, allowing athletes to switch easily between Bloc's range of performance lenses, to suit all light conditions and ensure perfect visibility.
Their lightweight and flexible KARBON TX frame and temples also provide a comfortable, adjustable fit, enhancing the running experience further. A full range of additional accessories including straps and inserts is also available.
Covering all three essentials in one fell swoop and coming in at a reasonable £60, the Bloc Titan XB630 sunglasses are top contenders in our line-up.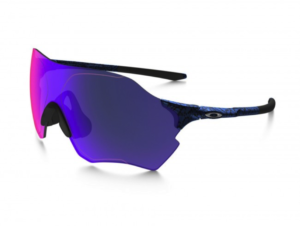 Oakley EVZero Range
With their sleek, streamlined design and Oakley's lightest sport performance frame, it's easy to see why the EVZero Range sunglasses remain a popular choice among serious runners.
For ultimate visibility, these shades feature a rimless Plutonite toric shield, offering an extended range of view and 100% protection from UV light.
Putting a stop to pressure point pain and slipping, these shades also feature a comfortable three-point fit design and no-slip grip nosepads and earsocks.
At a slightly more premium price of around £95, these are the ultimate running investment for the committed athlete.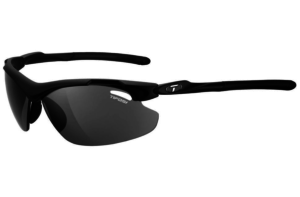 Tifosi Tyrant 2.0
Another key player in the interchangeable lens domain, the Tifosi Tyrant 2.0 offers a range of lenses to reduce glare, improve visibility and protect the eyes from UV rays. The lenses are also vented, which increases airflow and prevents fogging, making sure nothing slows you down.
Complete with adjustable ear and nose pads for a close fit while running, the Tyrant 2.0 sunglasses combine style with comfort and practicality. Prices range from £44.99 to £76.99 depending on which lenses you choose, putting them comfortably under our £100 budget.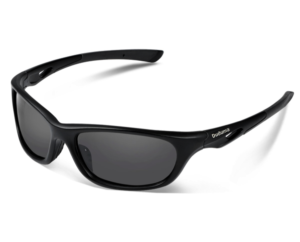 Duduma Sports Sunglasses
Running on a tighter budget? The Duduma sports running sunglasses are just what you need, retailing at a comfortable £17.99 while still delivering maximum performance.
Featuring polarised lenses to reduce glare and increase clarity, these impact-resistant shades will protect your eyes and reduce squinting while running in bright conditions. Often referred to as the 'barely there' shades, the lightweight frame is so comfortable you can hardly feel them sitting on your face, and they look great to boot. If you're looking for protection, performance and price, these deliver easily on all three.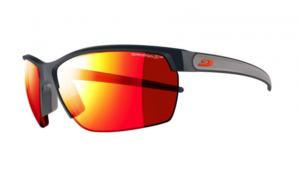 Julbo Zephyr Spectron
Specifically designed to perfectly fit men's faces, the Julbo Zephyr sunglasses are the ideal choice for male runners. Julbo have gone all out to ensure maximum comfort with lens ventilation, 360° adjustable temples and 3D adjustable nose wingtips for the perfect fit.
The sleek, panoramic design and photochromic lenses provide runners with a broad field of vision, and ensure perfect visibility and UV protection in all light conditions.
Retailing at £60 to £80, the Julbo Zephyr Spectron offers incredible value for money.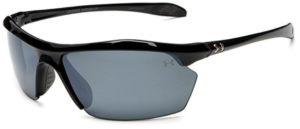 Under Armour Zone XL Sunglasses 
Under Armour is known for its sturdy, reliable sportswear, and it certainly doesn't disappoint with its Zone XL running sunglasses. Designed with a larger, rimless lower lens, these glasses maximise your field of vision to enable safer running no matter what the terrain.
The tried and tested, lightweight ArmourFusion frame material and the three-point grip system maximises comfort and reduces pressure pain during exercise, and the sleek wrap-around design makes for a stylish workout look.
Back towards the top end of our pricing scale, the UA Zone XL model retails at just over £70, but they are a worthy investment for any serious runner.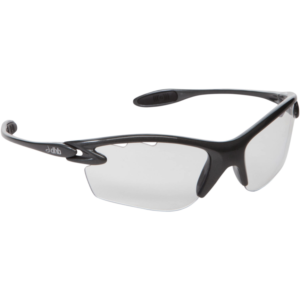 Dhb Ultralite Sunglasses 
Don't be fooled by the low price tag of our next contender; the Dhb Ultralite running sunglasses pack a real punch on quality. Our most budget-friendly option at just £14.99 RRP, these nifty shades protect runners' eyes from dust, rain and other debris as well as those harmful UV rays.
The smart venting prevents lens steam-ups, keeping vision clear, and the rubber arms provide a firm, comfortable grip to keep them in place. With three lens colour options, a stylish design and a cracking price, these are the perfect starter shades for budding or casual runners.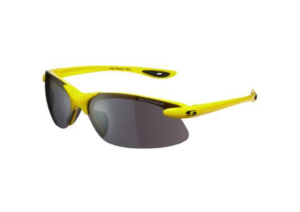 Sunwise Windrush 
Sliding ever so slightly back up the pricing scale again, the Sunwise Windrush sunglasses offer expert design and performance while remaining at a more-than-affordable price. Retailing at an attractive £33.99, these sunglasses come with interchangeable polycarbonate lenses to ensure you're prepared and protected from UV rays no matter what the weather conditions and light levels.
The frames are incredibly lightweight, durable and flexible, so you're sorted on the comfort front. Additionally, with water and impact-resistant lenses and high optical clarity, these shades provide everything you want and need in one affordable package.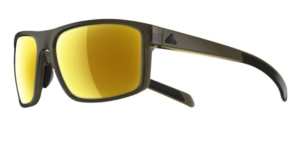 Adidas Whipstart 
If you're looking for as much style as substance, the Adidas Whipstart sunglasses don't disappoint. Their masculine design with rectangular lenses tick all the fashion boxes, while simultaneously providing all the sports performance needed for a great run.
With their lightweight SPX frame and Adidas' patented Traction Grip, these shades are guaranteed to stay on no matter how bouncy the run. And, when it comes to vision, the 6-base Vision Advantage polycarbonate lenses protect your eyes from the sun's glare and provide fantastic clarity.
Price? These guys retail at £99 RRP, but there are always deals to be found.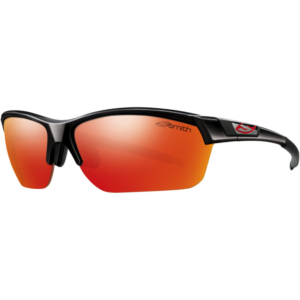 Smith Approach Max 
And for the final contender in our line-up we bring you this stylish, multi-purpose sports frame from Smith Optics.
With its half-rim design and enlarged lens, you can look forward to completely unobstructed vision, offering enhanced safety while running on difficult terrain. These hydroleophobic lenses are also impact-resistant and remain smudge and water-spot free at all times, so they get top marks for clarity of vision.
Retailing at £89.99 they're at the higher end of the £100 budget, but they make the perfect running accessory for the athlete who doesn't want to miss a thing.