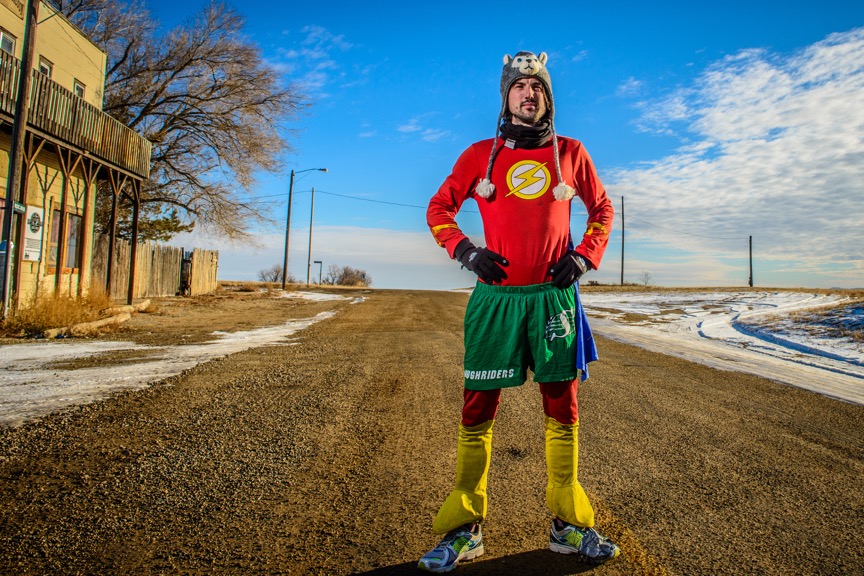 Jamie McDonald has had a busy few years. He cycled from Bangkok to Gloucester, broke the static cycling world record with an eye watering 268 hours on the bike, raised thousands of pounds for charity and then set his sights on completing a solo run across Canada…dressed as the flash. We caught up with him to find out more about his adventure addiction, his new book and the charity foundation he's donating all the proceeds to…
What inspired you to run across Canada?
As a kid I spent a lot of time in hospital, and about five years ago I started to think maybe I was in a position to give back some of what I'd been given.  I'd met this guy who cycled around the world, he was just a normal guy and it got me thinking, "If he can do a big adventure like that, maybe I can too." So with that seed of inspiration I embarked on my first challenge. I bought a second-hand bicycle for £50 out of the newspaper, flew to Bangkok and cycled from there all the way back to the children's hospital. When I returned home I decided to try to break the world record for static cycling. I was pedaling for 12 days and somehow I managed the record and raised £20,000 for the Children's Hospital. Immediately afterwards everyone around me kept asking, "What are you doing next?" In my head I was thinking "What do you mean, what am I doing next? I'm going to rest!" But not long after that I was sat on the toilet at my mum and dad's house and I had a 'Eureka' moment. It had been an incredibly tough year completing these big challenges but it was also really intrinsically fulfilling. So I ran out of the bathroom and said to my parents, "I'm going to run across Canada!" Mum was none too pleased, but Dad was like, "Yes, son!"
Related Article: Running hero: Terry Fox
How much planning and training went into turning this idea into a reality?
Nothing. I Googled 'run across Canada' and got inspired by the story of Terry Fox, but I didn't do much research. I prepared myself for camping in different weather conditions. But I didn't really know what I was in for. There wasn't really time for training. My Canadian visa was running out so every day that I would have spent trying to train would have been a day I was losing. I figured, when you've got about 5,000 miles to run, you don't really want to add on to that. My training started when I got out to Canada.
Did you have a pre-determined route and miles per day?
When I started out I was trying to hit around 13 miles a day. I'd never run before and I was a bit of a weakling. But after a couple of months of running, I needed to up my mileage if I was going to make it across Canada before my visa ran out. I needed to run nearly a marathon a day. It was never planned, I'd wake up and just go for it. I was just thinking about getting through each day as it came.
What was your favourite moment?
In Montreal I got to this crossroads and had the option of taking a longer route and visiting one of the children's hospitals that I was raising money for, or taking a shorter route and missing out. The longer route added about an extra 15 marathons to my journey but I ended up choosing to run that route. This was a bold move because my visa was running out and the winter was kicking in; every day counted. But when I got there I had ended up raising $20,000 in just those two weeks and all the doctors came outside and the kids were all dressed as superheroes. I ran around the hospital and it was really special – well worth the extra miles.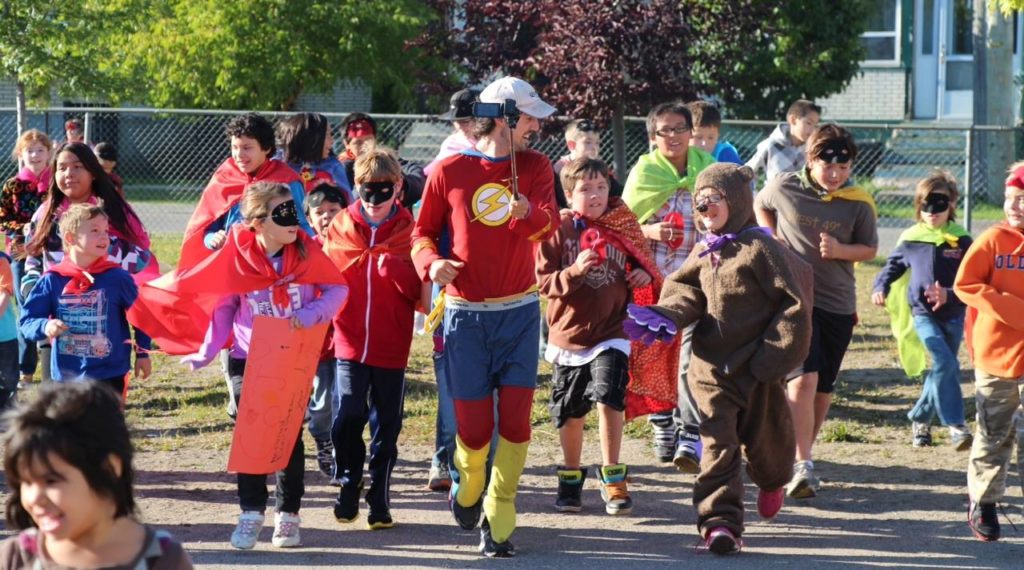 What was the most difficult moment?
When I got up to the Rocky Mountains in Canada, all the Canadians started to turn on me a little. The rangers and the police wanted me to fly home. No one had ever crossed the Rockies in the winter and they thought I was putting my life in danger. In addition to that, I had chronic tendonitis in my foot and with 60 marathons to go I was in agony. At that stage I did think maybe I should go home. But a message came in from someone I'd met a few months before and it read, "Hey Jamie, I don't know if you remember me and my little boy, but his cancer has returned and he's out of treatment options, all we're trying to do now is live everyday like it's the last and make the happiest memories we can. I'm so worried about you crossing the Rocky Mountains, but as a mother who is just about to lose my beautiful little boy, you have to keep going." that message kept me going. I ended up sharing the message and once I started running through the Rockies the attitudes started to shift. The rangers still weren't very happy about me going through. But eventually the people started to get on board and realise that the challenge was bigger than me.
What keeps bringing you back to these extreme physical challenges?
There are always multiple motivations that help you through, but the adventure side of things definitely helps; the excitement of not knowing what's around each corner.
Since running across Canada you've written a book and co-founded the 'Superhero Foundation' – tell us a little about that and how runners can get involved.
The Superhero Foundation is about regular people taking on their own big challenges to fundraise for families in need. All the funds go directly towards the families, paying for things like life-changing operations and surgeries. We've just partnered with Cotswold Way on a new challenge called the 100 miler and we're asking superhero's to take up the running challenge to fundraise for the foundation so that we can help more families in need. The book is called Adventureman and it's my story, from cycling across Bangkok to running across Canada. One hundred percent of the proceeds will go to The Superhero Foundation.
You've raised hundreds of thousands of pounds for charity now; do you have any fundraising advice?
Be honest about your story, share what motivates you and don't be afraid to be vulnerable. If you take on a challenge and it's the toughest thing you've ever done in your life – if you've shed tears and you've bled for it – share that struggle.
Which challenge was harder, running across Canada, static cycling non-stop for 268 hours, cycling 14,000 miles, or writing your book?
Without a doubt writing the book. I'm much better at just running.
What's next?
The book comes out in Canada in November so I'm doing a Canadian book tour and I'd really like to visit all the people that helped me through. Then once I reach Vancouver it will be time to announce the next big adventure but if I told you, I'd have to kill you. I'm just kidding. I don't know what the next big adventure is, I don't even know what I'm doing tomorrow.
For more information on the Superhero Foundation or to volunteer for the 100 miler challenge, visit superherofoundation.org
To purchase a copy of Jaime's book Adventure man, visit jamiemcdonald.org/book/