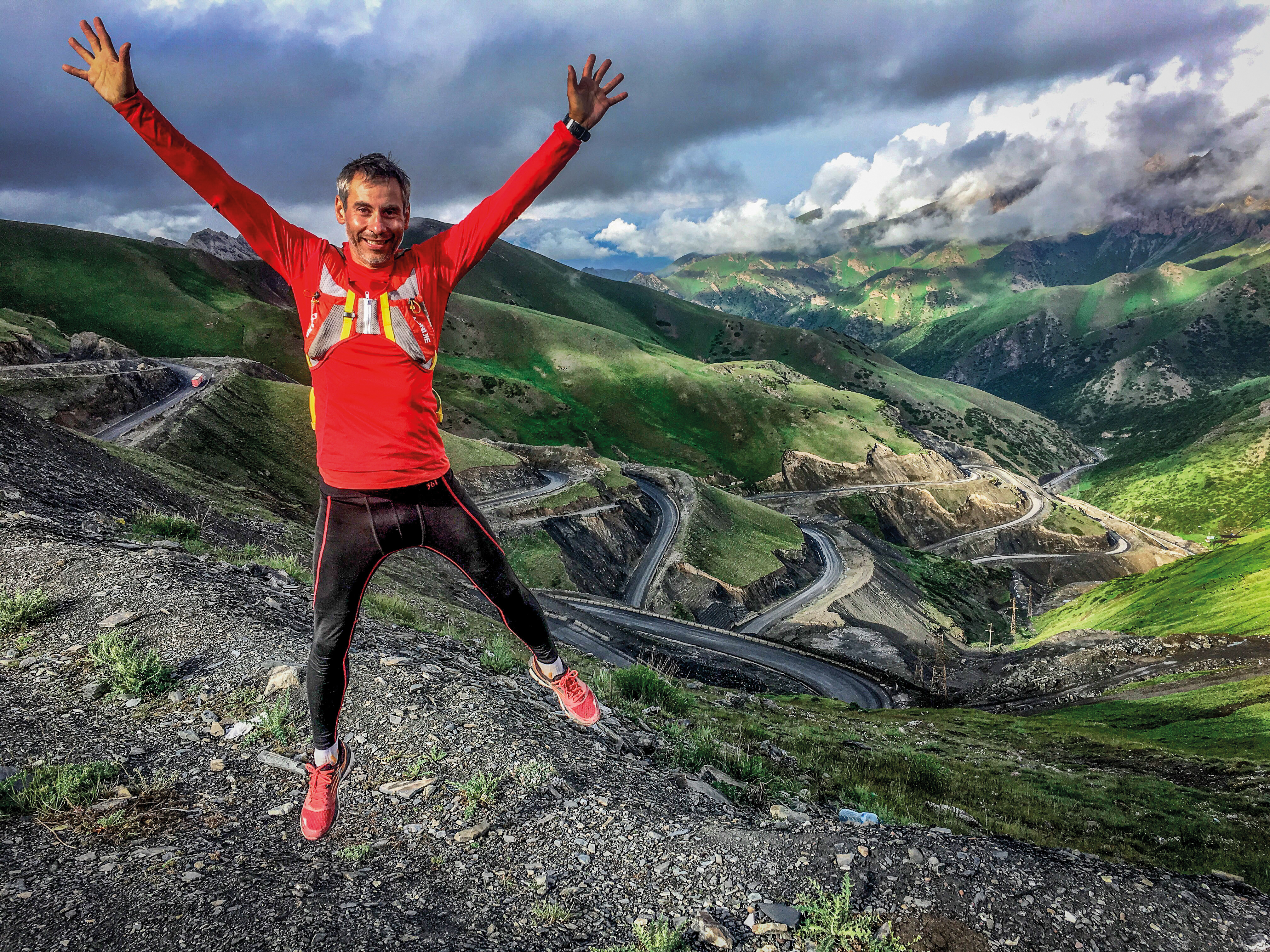 How did the idea to run the Silk Road come about?
The last part of my name, Xiong, is my wife's surname. She's from China and I've been fascinated by the country since my grandparents bought me a book about it as a child. I'm not a famous runner but I want to raise awareness of prejudice, to help break down barriers between races and to visit my in-laws!
I figured that the Silk Road is such a big topic right now that running it would capture the imagination of supporters and the media.
How do you prepare for a nine-month, 12,000k run?
I'm not a runner, but for the previous nine months I would run in the evenings, after work. Turning left outside my house took me into the mountains of Bavaria. I'd run until tired, then turn back. I cross-trained on bikes and swam, too.
For mental preparation I looked into similar projects – but on those that had failed – to find out where people had gone wrong.
Wait…you're not a runner?
No. As a student I once ran from Hamburg to Paris because I couldn't afford the flight! But no, I only started regularly running for this idea. I have a very ugly running style apparently, but it's effective. I had a pre-run scan that revealed I have one leg shorter than the other – but I ran without shoe implants.
To prove to the sponsors that I was serious, I ran 600K to Nuremburg. I was camping in the snow, during winter. They saw I was serious (or crazy) enough to do this!
You got sponsors and a support car though?
We got about 70% of the sponsorship needed before we left. The rest we generated along the way. The 361 shoes were my biggest supporter.
Victor Neubauer drove his 1984 Volkswagon Beetle to China with a trailer of provisions attached. I would run ahead and he would meet me at a rendezvous. Victor rented out his flat, quit what he was doing and just agreed to join me.
That was only six weeks before we left. I'd only met Victor a few months before. He ended up having a pivotal role in the story of my run.
What was the toughest part?
Leaving my wife and one-and-a- half-year-old son behind was really hard. I want to be a proper father who knows about his mother's homeland as much as my own. It was part of the motivation to run but it was tough.
I did get to speak to them on videophone – that was the first time I heard him say "Daddy". I feared he would not recognise me when we met up nine months later – thankfully he did.
What surprised you most along the way?
Russia. My run was about ending prejudice but I had preconceptions about the country that were totally changed. The people were amazing and a big Russian running club joined me, helped fundraise and their leader even learned English so that we could communicate. Russia is a big, colourful, wonderful place.
Anywhere you wouldn't run again?
No, every nation was different. From Siberia to the Gobi Desert it was incredible. By the time we hit Belarus and couldn't understand any signs we knew we were on an adventure. Tashkent and Uzbekistan was truly wonderful running – stunning landscapes and kind, curious people.
But in China the wheels came off?
It happened in Hubei Province, in September, about 1,200K from the finish. I fell on a rough road and broke both my ankles. I was taken to hospital and Victor managed to find me. We contacted the sponsors and agreed a Plan B.
Plan B…which was?
Victor would run the rest of the way. He hadn't run at all. He's a smoker, too, but he wanted to finish the challenge for me. He ran while I was recovering in hospital.
Unknown to us the local government in Shanghai had arranged a huge finish line event including the city's first ever 10K run to accompany me. I was taken to it in my wheelchair and the first steps I took in my recovery were over the finish line.
Crazy numbers
12,000K run from Hamburg to Shanghai
8 countries visited: Germany, Poland, Belarus, Russia, Kazakhstan, Uzbekistan, Kyrgyzstan and China
23 pairs of 361 running shoes worn
2 broken ankles
For more on Kai's Silk Road adventure, head to 361europe.com/en/runmysilkroad