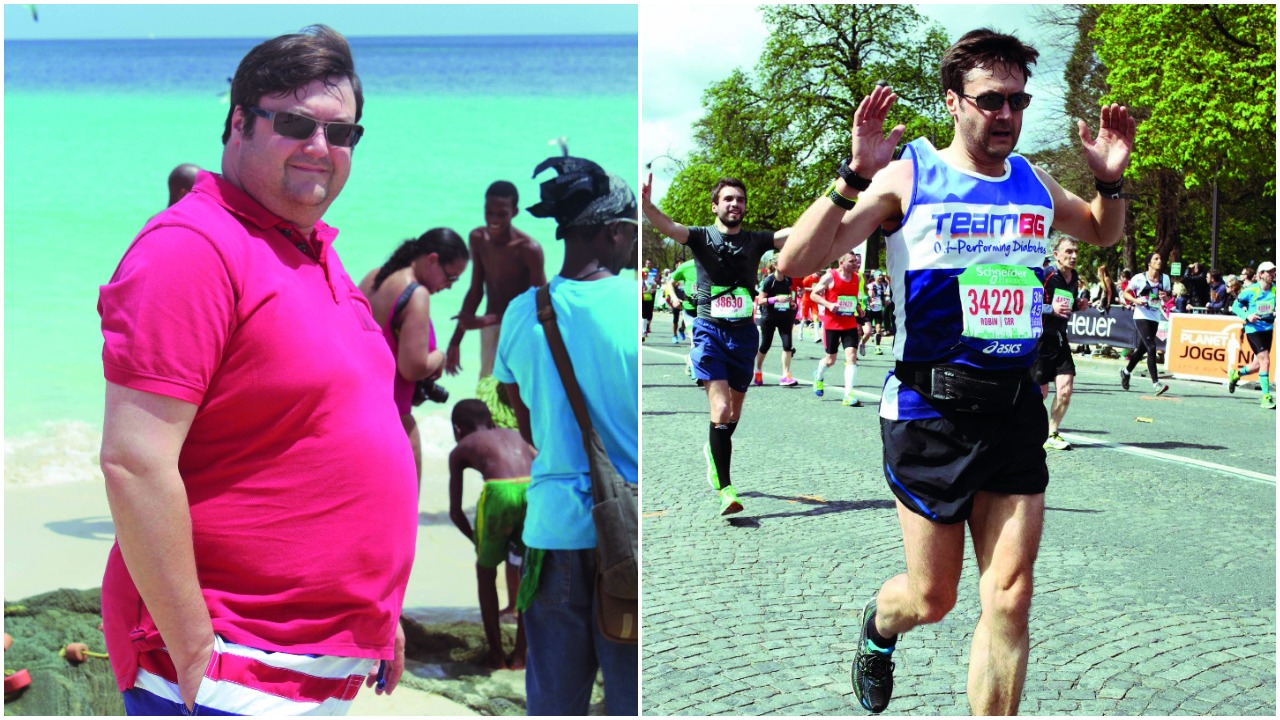 Before: 21st
After: 13st 4lbs
Bob's weight-loss story
"Like many people newly diagnosed with type 2 diabetes (T2D), a visit to the GP in the spring of 2013 left me confused, upset and lacking information or support," explains Bob. "I was fortunate that the charity Diabetes UK set me off on a path of self-management, something I now understand is critical for anyone living with a long-term condition."
Part of that self-management initiative focused on giving Bob the tools he needed to improve his fitness and change his sedentary lifestyle. Not an easy task for many of us – a veritable mountain to climb for a 21-stone forty-something guy with an often energy-draining illness.
"I had a few false starts on the fitness front as first. I downloaded the NHS Couch to 5K course on my smartphone," explains Bob. "It took me most of the summer to complete it. I began with furtive late-night walks-cum-runs. Under the cover of darkness I didn't feel conscious of my weight or so sensitive about being seen exercising whilst trying to get attuned to the rudiments of running."
Parklife revival
By the autumn Bob had completed the Couch to 5K course – an audio running plan designed to get complete beginners from couch potato to running for 30 minutes or a 5K distance in nine weeks.
"But my secretive solo running was stalling," says Bob. "I was losing the momentum." However a chance chat with the manager of his local running shop revived his interest.
"I told him I could run 5Ks now and he told me about parkrun." However, there were still obstacles. The lack of confidence that had stopped Bob running in broad daylight postponed his parkrun debut. "I lost count of the number of times I got out of bed on a Saturday morning with an intention to do a parkrun and got as far as putting on my trainers, only to lose my nerve and find something else to do.
"It took me several months to summon the courage to go to parkrun. But I knew from my first Saturday morning in January 2013 that it was something special, and I have been a regular ever since."
From the couch, Bob had reached Oak Hill Park and a 5K lap of it every Saturday morning. "For me, one of the keys to changing my lifestyle to a more active one has been to stop trying to add a visit to the gym at the end of a long working day, but looking to integrate exercise into my everyday life.
"Motivated by the initial results from the parkrun, I started making exercise part of my trip to work – some mornings it's just getting off one station before my usual stop and walking a little further. Other mornings I run all the way to the office. I try not to consider one to be more successful than the other, instead to think of them both as being positive.
"My job involves a lot of desk work, so I look to get up and move at least every hour, even if it's just walking down a couple of floors to get a cup of tea. If I can't get away from my desk to stretch my legs, than I stand up for 10 to 15 minutes, perhaps while on the phone."
Up and running in Paris and London
When away from the desk, Bob's running has become part and parcel of his lifestyle overhaul and his battle to keep his diabetes in check. "I moved up to 10Ks and halfs in autumn 2014, as my regular training and the weight loss began to have a positive effect on my speed and stamina.
In 2015 Bob ran the Paris Marathon – the first of three he's run to date. "It's an easy one to sell to the girlfriend! A romantic weekend away – as long as she's OK with me running 26 miles on the Sunday.
Today he weighs 85kg, or 13st 4lbs in old money. "I'm a run director at parkrun and do regular shorter distance races such as the London 10k and St Neots Half Marathon that don't ruin my week by being too gruelling training-wise. I'm running roads, track, trails, beaches and a bit of cross-country too. I've even taken the first stage of an England Athletics running-coach training course.
"Living with T2D continues to tax me on a daily basis, but running has helped me drop 50kg in weight, to reduce the medication I need to maintain acceptable blood glucose levels and provides enormous benefits to my overall wellbeing. I would never wish to have diabetes, but the process of learning to self-manage has provided me with new purpose in life, amazing opportunities and some wonderful new friends."