If you happen to find yourself sat in row 30 of an easyJet airbus sometime soon, you might find a folded OS Map of the Mourne Mountains in the seat pocket. If, like me, you'd previously never heard of them, you're holding the key to a wonderful adventure.
Admittedly, beginning a day trip to an unknown destination without the map you've marked a trail on isn't the best start (especially when you have to be back at the airport eight hours later) but the outcome was a blank slate to run open trails with two good friends, seeing as much of this stunning Area of Outstanding Natural Beauty as possible.
Open to adventure
Situated in County Down in the south-east of Northern Ireland, approximately an hour's drive from Belfast International Airport, you'd be forgiven for thinking there wasn't much reason to journey all this way from London, in a day, when there's surely trails to be run closer to home. While there are perfectly good, nay, great trails on my backdoor here in the North Downs, I've run them a lot.
Most of us have our favourite routes, shortcuts, hill sections and viewpoints and they serve us well. Discovering new regions on foot, however, is for me the greatest way to combine running with travel. So when my friend Matt Buck's message popped up, "Fancy running somewhere next Friday?" my thoughts immediately turned to mountains.
While my Instagram feed that crisp winter week in early December was littered with lucky runners enjoying the snow-clad Lake District and Highlands, because of work I found myself desk-bound. The opportunity to run somewhere new with potential altitude gain and navigation practice was too good to ignore.
So I headed straight to skyscanner, my first point of call when free time arises. Belfast for £24 return leapt from the screen and half an hour later, with another runner (Sean Conway) onboard, we were booked. All it took was a scan of Google Maps for hilly regions within reach of the airport and I knew we had something special lined up.
Running the wall
As we screeched to a halt at the trail head, situated on the East Coast five minutes south of the town of Newcastle, we looked up into light grey skies with a route taking us straight to the top of Northern Ireland's highest peak, Slieve Donard (850m). It's always a sharp (and painful) reminder of how puny the hill sections I run regularly are when you find yourself panting, hands on knees within minutes of setting off.
The reward at the saddle of the Summit was stunning, a view south-east towards Ireland with valleys, peaks and ridges falling away. Although not Alpine in stature or technicality, the terrain had something for all of us: rocky paths, soggy heather bogs and crisp cold streams. The best, however, lay before us.
Leading directly to the summit was The Mourne Wall, an eight-foot high, manmade barrier that stretched as far as the eye could see. A local hiker told us (in incomprehensible local dialect) it ran from the coast and was built to contain sheep, but we found it a brilliant trail that just grew steeper and steeper. Topping out the view only improved, giving us 360-degree panoramas north to Belfast and across the Irish Sea to the Isle of Man and the Lakes.
If you're going to head straight up a near vertical kilometre then the view better be worth it. A short break for water, potato pancakes smeared in Nutella for Sean, and a couple of summit shots, and we hurtled down the side of another majestic wall before scaling the next summit of Slieve Commedagh.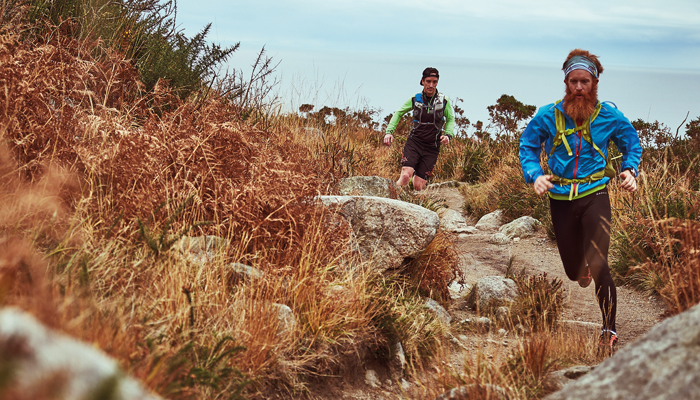 More and Mourne Mountains
This pattern of ascend, descend, continued for most of the afternoon before putting us at our furthest point on Slieve Bearnagh, from which, with dusk and temperatures falling, we knew we had to route back. Putting Matt's Garmin to the test plus giving him plenty of training for a forthcoming stab at the Dragon's Back race, we navigated our way back to the saddle across a sublime trail which cut across the face of a valley head.
Running single file, the sun breaking beneath low cloud on the horizon as the valley fell away beneath, was the high point for us all and exactly why we'd gone to all this effort. Particularly proud of my dry feet up to this point, the ginger adventurer Sean proceeded to lead us through an inescapable bog and with squelching shoes we descended the river in darkness, head torches blazing, and jumped back into the hire car.
It wasn't until we sat in the airport pub nursing ales that evening that we took in what we'd achieved: we may only have run 12 miles, but we bagged 5308ft and took in some of the country's highest peaks. Much more than that, however, we'd all ran new terrain, been blown away by the scenery and flew home refreshed, although I did pity the poor souls sat around us as our scent overtook the cabin.
Get out there!
This was near the middle of winter and we'd discovered trails which we knew we'd all come back to run again while colleagues went about their usual days. Returning home 16 hours after stepping out the front door and collapsing into bed, my wife murmured, "Good day?" I whispered, "Brilliant" and passed out – with a huge grin on my face.
With children, busy work and routines it often seems daunting fitting in training for upcoming races or discovering new trails, but I've always believed, with a little effort and for a small expense, you can pack a lot into a day. We may not have the Dolomites, Alps or Pyrenees as our playground but the UK's National Parks offer a wealth of adventure in return for a short flight, train or drive. Just don't be late for your plane, train or automobile back home.
5 ONE-DAY ADVENTURES IN THE UK
1. Brecon Beacons. Summit Pen-y- Fan and take in the best that South Wales has to offer.
2. Isle of Wight. Run the Isle of Wight's Southern coastline, from the Needles as far east as your legs take you before catching a ferry back to the mainland.
3. North Downs Way. Pick a section from the 156-mile path: if 100K evades you, head for the nearest train station leading back to London.
4. Loch Ness. A short flight to Inverness dumps you just south of the Highlands, on the banks of the River Ness. Take a 30-minute cab ride to the head of Loch Ness.
5. Lake District. The firrst train out of Euston brings you to Kendal, heart of the Lake District, for 09:15, leaving you 11 hours to run into the hills before the last train back.