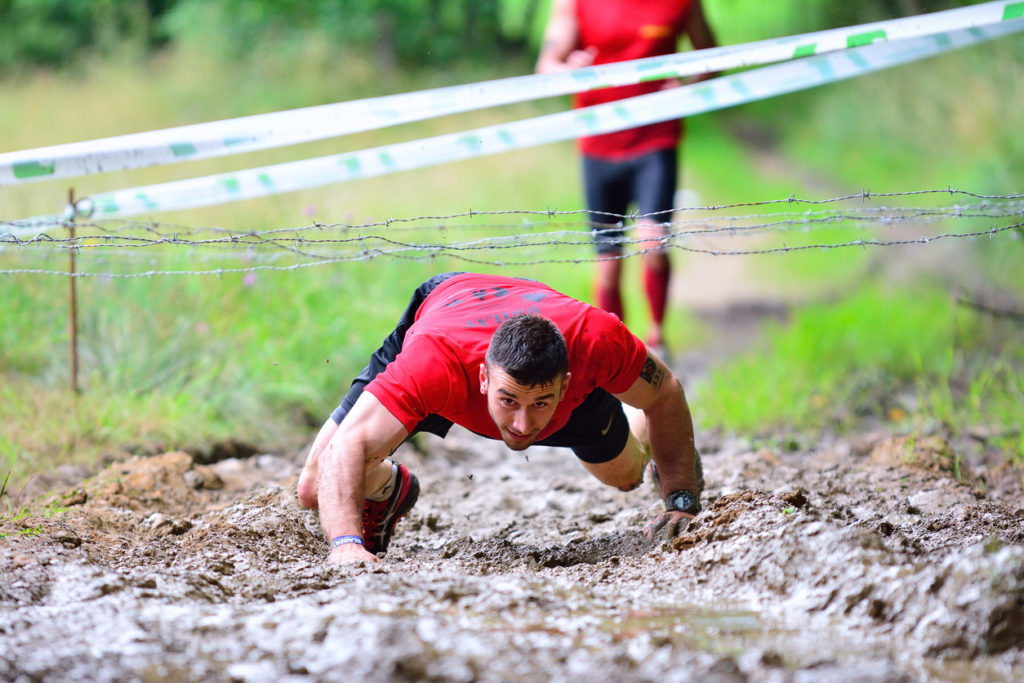 There's nothing quite like an obstacle race, right? If you're looking for something a bit different from the normal type of event, then there's no race better. A Spartan race, for example, is as tough as it gets and offers a number of different mental and physical challenges to what runners might normally deal with.
Fire jumps, rope climbs, barbed wire crawls, weighted stone lifts – the list is endless, and it's exactly why the popular event is attracting a wide range of runners. And it's okay if you're yet to give one a go, all you need to do is pick a distance and commit to a mixed and varied training plan.
It really is that simple, and chances are your body will be thanking you for the change in training. We spoke to David Downey, a personal trainer at David Lloyd, for a few pointers on how to become 'Spartan fit'. So if you fancy really stepping up your training, you may wish to jot some of these down…
The essentials
Burpees
Not anyone's favourite we know. But if you fail any obstacles on the course, you're doing 30 of these as a punishment. And trust me, you'll fail a few so be prepared. Incorporate them into every session and learn to love how good they actually are. The only reason they hurt is because they work.
Build up endurance 
Going to the gym and running 20K straight away won't help anyone. You need to build your endurance over various disciplines, and build it up slowly. Make sure you allow plenty of time ahead of the race to start your training, and incorporate running alongside other exercises, keeping both endurance and strength intertwined in your training.
Hit the HIIT 
High intensity interval training (HIIT) will be the perfect training method to conquering many different body disciplines in one workout, thus making it perfect for the race. A typical session can be only 30 minutes and in that short time your body is building up a lot of strength to take to the course. Ideal if you're stuck at your desk for all the other hours in the day.
Core and flexibility 
Core exercises and stretching will be a major part of staying healthy and happy throughout training. Take a day during the week to really concentrate on core stability and flexibility, this is a nice time to take a moment out of the day and focus on your breathing. You don't need a trip to the gym for this. Get it done at home or even on a lunch break.
Get outside 
We all love an easy treadmill session, but there is nothing like getting outside and doing the real thing. A Spartan Race is mucky, so get out there and familiarise yourself with the elements. Do hill sprints and mud runs to get your legs, ankles and knees used to it. It's also a great excuse to clear your mind of all the other stress that's built up from being stuck at a desk.
Added extras
Train with a partner 
Get your partner or friends to sign up with you. The bigger the group the better the atmosphere on the day. More importantly for training, being together will give you more motivation to train. It's harder to say no to the gym when you're letting your team down.
Prepare
This is simple and it's a cliché but failing to prepare really is preparing to fail.
Test your shoes/socks/tops/shorts/ even pants! There is nothing worse than getting your body ready to have your kit let you down. Even a blister or baggy pair of shorts can be a huge influence on your race.
Have fun 
There is a reason the slogan is: 'You'll know at the finish line'. This isn't an easy race; but it is designed to be fun. Train hard and you'll be fine, but expect a battle so make every session count.
Spartan Race is coming to London for the first time at Windsor Great Park Estate on the weekend of 30th September 2017. Find more information and sign up at: www.spartanrace.uk