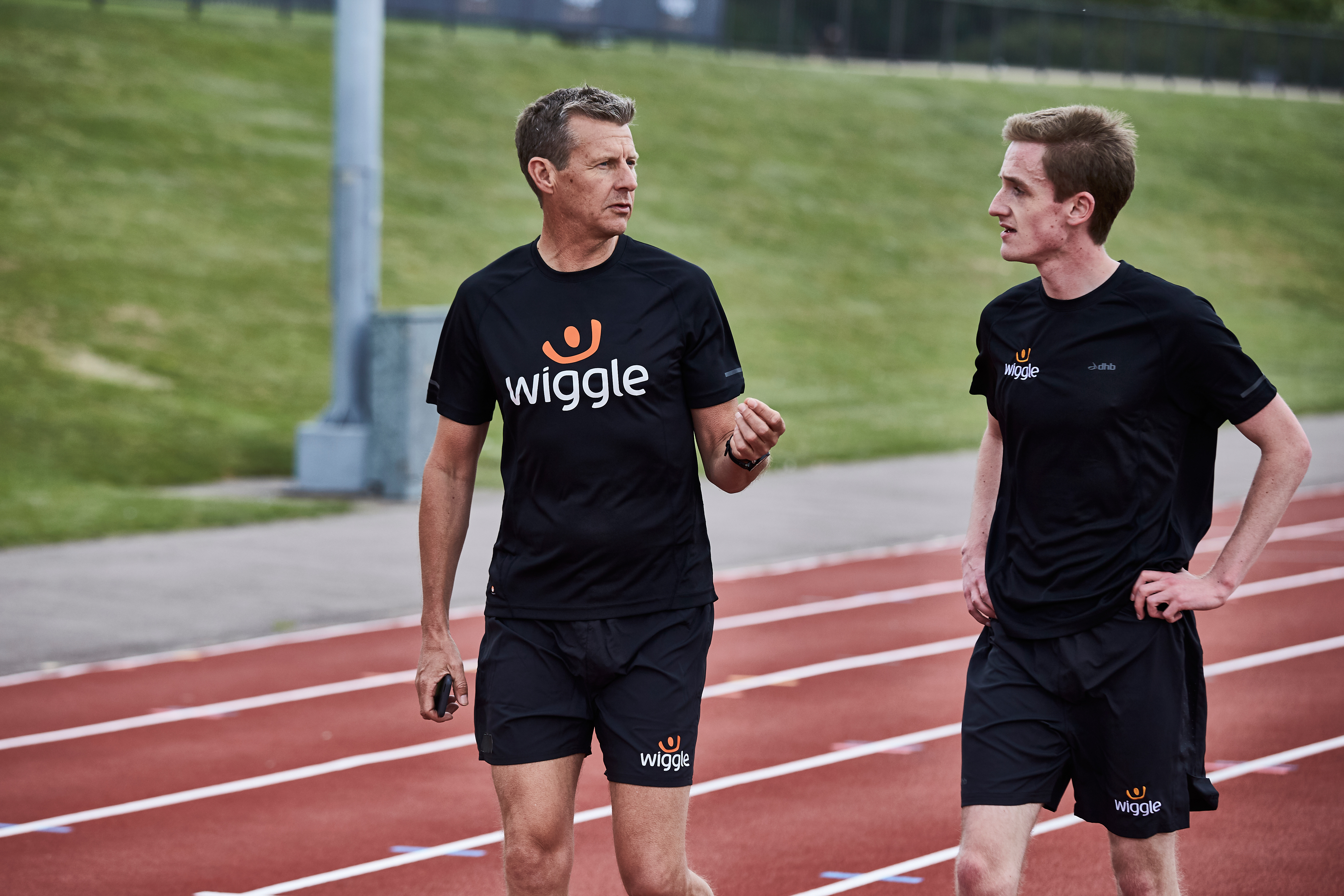 Like many other non-club runners, my speed training usually lacks any kind of substance. I mean, it's shaky at best. So when asked if I fancied a one-to-one coaching session with running great Steve Cram, to launch the #mymile campaign by retailer Wiggle.com, I couldn't quite believe my luck.
It's not often you get the chance to be coached by a former world record holder, and current UK record holder, after all. Cram's mile time of 3.46.32 back in 1985, which beat Sebastian Coe's then world record by almost one second, still remains unbeaten by any British runner. When it comes to speed, he's your man.
Track time
The Monday morning session took place at London's Parliament Hill running track. Cram, one of Britain's most successful athletes, was putting me through my paces. It was painfully brilliant. He made me do numerous 100 and 200-metre sprints, and then challenged me to a final 1200-metre effort.
We didn't have enough time to complete a full mile test, so I wasn't able to better my best mile time of 5.10. And to be honest, the sprints had killed me. But the session gave me real insight into how speed work can aid any kind of runner, and how the mile is the ultimate test of both speed and endurance.
Cram's attention to detail was fantastic, and his advice was extremely helpful. We posed for a few post-session photos before making our way back to the changing rooms. Keen to find out even more, I then pitched a few mile-related questions to the former middle-distance runner…
The mile
Why should runners try racing a mile?
I think it's the essential component of everything else you're trying to do, whether it's a half-marathon, a 10K or a 5K. They're normally broken down into miles, so if that is a component of what you're trying to do then performing that better will help you to perform better at the longer distances.
That might sound counter-intuitive but it's the way we work, it's the way elite athletes work. You break it down into its component parts. A mile is the building block of everything else, so if you can learn to run a mile quicker it will help you then with everything else you're trying to do.
What makes the distance so unique?
Well now, with so many people running, we can ask whether you have broken a five-minute mile yet, or broken a six-minute mile. It's got these nice little benchmarks for people to hit, so I think that really works. And I think from a spectator point of view, it's kind of an ideal time.
It holds the attention long enough. It's a bit like, you know, you go and speak to any TV producers these days and they'll talk about three or four minute segments. It's about holding people's concentration.
Record breaker
How did you train for your record-breaking mile in 1985?
Well it only took about 12 years! I've been running since I was 12 or 13 and it's still an endurance event, despite what people might think. I was running cross-country, and then went back round to the track. I had to train as much as a long distance or marathon runner sometimes, in terms of mileage.
You're trying to combine different elements. I was running 100 miles a week, but would also have to be quick. At the height of my training, back in my mid-twenties, I was doing 12-14 mixed sessions a week as well as other running stuff as well. So it was full on, it was a tough program.
How did you approach the race itself?
My tactics were going to be that I was happy to be in it, but I wasn't going to chase the pacemaker. So my pace was pretty good for the first two laps, but it dropped a bit in the third. And it really dropped outside what we'd ideally want for a world record.
But with 120 metres to go, I'd pulled away from Seb [Coe] and the rest of the field and I just sort of relaxed. I knew I'd won the race, and I actually got quicker in the last 120 metres. And when I crossed the line, I looked and I had knocked nearly a second off the world record!
Will your UK record be broken soon?
The only person at this point would be Mo Farah, if he wanted to. He's coming at it as an endurance athlete, dropping down. He's got speed as well, and he even broke my 1500-metre record, which I think was more of a surprise.
He hasn't quite run as fast at the mile yet, but he's the one who would be capable of beating it. I think he's moving up the distances again now though, so maybe I'm going to hang onto it a bit longer!
Run your fastest mile with wiggle.com this month for a chance to win one of over 100 pairs of running shoes. Visit the site for more info.