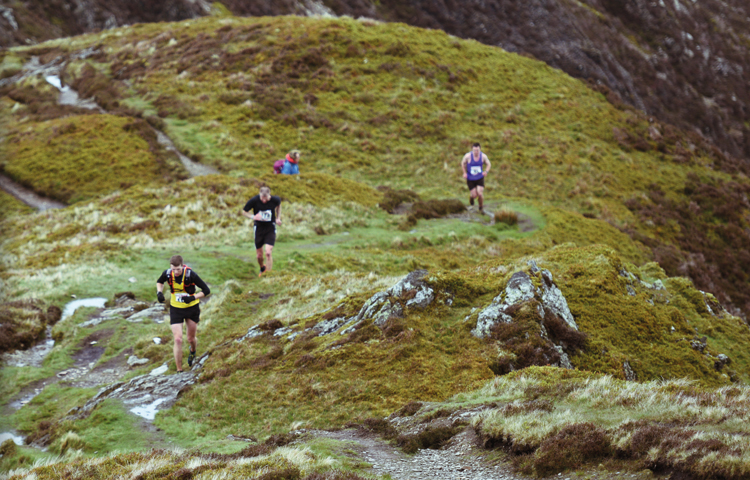 Even mainstream road running events are now copying the pasty-and-squash format in an attempt to channel some of the northern hospitality and soul that's synonymous with the world of fell running.
Unless you happen to live in the mountains or in the northern rural heartlands, however, signing up to a fell race can seem like quite an undertaking. You will need to embrace bogs, long winding paths that disappear before the summit, stream hopping, river wading and style vaulting.
Then there's the unpredictability of mountain weather – many of them have their own microclimates. Still interested?
You should be, because this is running in its purest form. If your running has jaded to grey like the pavements you tread, fell running is a sure-fire way to reignite your love for the sport.
■ Where do they take place?
A quick glance at the Fell Running Association's (FRA) website (fellrunner.org.uk) will provide some pointers. The Peak District, Lake District, Yorkshire Dales, Northumberland, Snowdonia and the Cairngorms all boast a good number of fell races.
Many fell races work around a village fete or country fayre between the sheepdog trials. Others exist in their own right and more recently there's a Skyline race series, for more experienced adventurers and mountaineers.
The more low-key events often start and finish at a country pub or sports field, attracting anything between 30 and 300 runners. Entry fees are rarely more than £7 and proceeds often go towards charities. There also tends to be junior races available and there's a real family feel to the events.
■ What are the rules?
Recent tragedies in mountain fell races have meant that organisers are now very sensitive to people dropping out of their race and not informing a marshal that they have done so before heading home. Mountain Rescue may well be called out at considerable expense and spend the rest of the weekend searching for you, long after you plumped yourself down on the sofa with a beer in your hand.
Many events will have mandatory kit regulations. Be prepared to have the contents of your rucksack checked before the start. If you don't meet essential equipment requirements, you may well be disqualified or forbidden to start, regardless of how far you have travelled.
Consult the online FRA glossary, which relates to the amount of experience you should ideally have for that particular race. ER means 'Experience Required', NS is  'Navigational Skills Required', LK means 'Local Knowledge' is an advantage, while PM means the course is 'Partially Marked'.
'Best Practice Kit' is the mandatory minimum for certain categories of races: AL, AM and BL races (see box opposite). This comprises: waterproof whole-body cover, hat, gloves, map of the route, compass, whistle and emergency food. Your waterproof whole-body cover must have taped seams and an attached hood.
■ How can I train for them?
To prepare for a fell race, you'll need to work on your technique to handle the unnerving descents. Make sure you watch where you place your feet and try leaning into the descent. This might go against your natural instincts, but will actually reduce the strain placed on your muscles.
You'll need to practice rock hopping and dealing with unstable terrain, which means improving your balance as well as fitness through cross-traning, cycling or hill-walking, for example. These activities will also strengthen your ankles and sinewy connective tissues.
3 great fell races
■ For the beginner
Burnsall Classic, August 2016, 1.5-mile climb up to 274m in this exhilarating intro to fell running.
burnsallsports.co.uk
■ For the pro
Wasdale Horseshoe, July 2016, 21 miles. A Lake District classic involving 2,750m of climbing.
cfra.co.uk
■ For the southerner
Box Hill Fell Race, January 2017, 7.5 miles. A fast, competitive fell race in leafy Surrey. Climbs 520m.
slow.org.uk