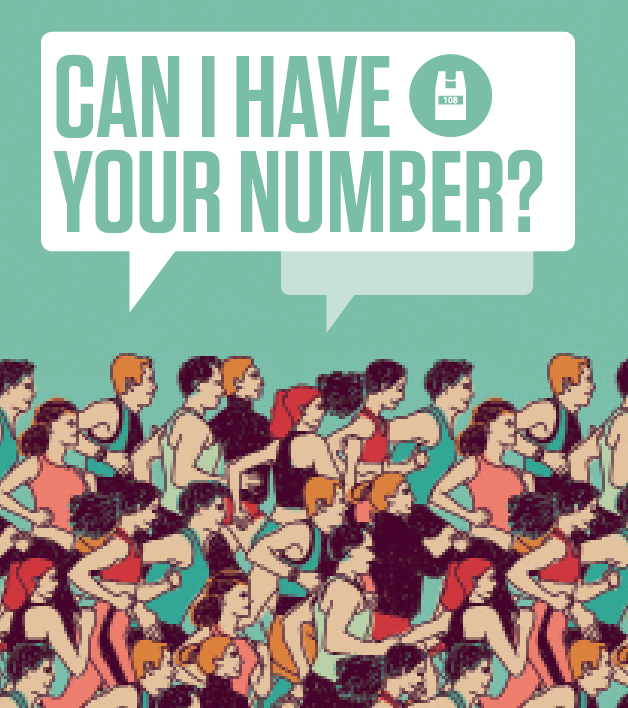 Have you ever run a race in someone's place? It's not that uncommon, is it? A runner gets ill or injured and hands on their number to a friend or family member who takes part in the event instead. No harm, no foul, no wasted place, right?
But for organisers, this often-innocent practice can cause huge headaches if they either do not allow transfers, or are not at least aware of them. Problems arise most often if that runner is taken ill during an event. The back of a race number usually carries their medical information, and if that doesn't chime with the person wearing it, the risks are suddenly very real. Or if, say, they don't finish and organisers need to look for them, they will be conducting a search for the wrong individual.
Doctor's orders
One of the most high-profile cases of number trading that ended not in any health emergency, but certainly with severe punishment, was in the 2005 London Marathon. TV doctor Hilary Jones suffered injury during training and – despite having his request to transfer his number turned down by the organisers – handed his place to his son who ran the race. When this was discovered, the good doctor and Jones Jr were both handed lifetime bans by the London Marathon, chief executive Nick Bitel saying at the time: "Eighty-two thousand people applied for this. Despite asking us and us refusing, he gave his entry to his son. It is an irresponsible thing to do. If someone falls ill, it causes us and the medical people severe difficulties."
In races of such magnitude, the stringent rules make sense. With the potential for cases of number-swapping to run into high volumes, the associated potential problems are many. Further down the race scale, a phone call or email to organisers, sometimes as late as the day before the event or even on the day, is all that's needed for a transfer to be agreed. But it's not always possible, and it's not always easy. What's more, in 2014, UK Athletics updated its rules to enforce disqualification on athletes who take part in UKA-licensed road races with transferred numbers without permission, as well as slapping disciplinary sanctions on the person who gave them the number.
The swap shop
In the US, one keen runner has come up with what she hopes will be a solution to end the trend of 'illegally' running under someone else's registration and the frustration for runners who have to pull out and see their entry fee go to waste. New York-based runner Edina Leiher founded BibSwitch in 2015 as an online intermediary marketplace where runners can offer up numbers in events they can no longer use. "It's all done with the permission of the race director," she says, "and they remain in control of changing the details on the database of that runner."
The idea came to Leiher after seeing places for a major marathon on the east coast of the States going for obscene amounts on online marketplace websites because transfers were not allowed. "I just thought, 'It's wrong, why can't there be a better way to do it?' "Races are popular because runners commit, they train, they show up and they race. If they can't, it's for a good reason – pregnancy, a stress fracture or some either injury – but often there's no solution." The site also has a 'Bib Bank' on which Leiher is encouraging runners to submit the amounts of cash they have lost through wasted race places.  "I'm trying to start conversations with race directors. Some are offering transfers already but many don't. But if you have a permit for, say, 1,000 runners, you should be able to accommodate that number, so if you sell out, don't tell me you don't want half of them to show up! Why is it better to have people sitting sad on the side of a road who wanted to run?"
Is the UK next?
In general, most UK races have a deadline for name changes. The Halsted Marathon is an award-winning annual 26.2-miler and Nathan Roulson, member of Halstead Road Runners Club, who organise the race, was the event director for three years. "Should the worst happen and a runner collapses at a typical rural race, they may not be immediately found. Therefore, the need to quickly identify an unconscious casualty and any medical conditions they may have is very important. "It could be a member of the public or another runner that discovers the casualty, not knowing who or how to contact Race Control. The next marshal could be hundreds of yards away. So the key question is: 'Whose details are written on the back of the bib – if any?'
"We do allow transfers up to four weeks prior to the event – this is when we order the bibs which are personalised with runners' names printed on the front. There is a £10 admin charge to cover things like correspondence with runners, our entry and chip timing partner, County Championship coordinator, and updating the website and race packs." And with all that admin in mind when it comes to making sure bibs match the runners, would an event feel comfortable allowing a third party like BibSwitch to enter the fray to handle transfers?
"Implementing a robust process to ensure the correct details are on the bib would be the first thing we'd have to look at – it would take a few spare bibs and some admin on the day. And we'd need to ensure that BibSwitch could meet the time scales and IT requirements of our entry and chip timing partner, and meet strict data protection and privacy expectations." It is obvious that with sophisticated systems now available it's not beyond many races to be able to swap runners in before race day, but you can see the reasons races handling tens of thousands of entries would not entertain it.
But choosing to circumvent any processes for number swapping and simply running with your mate's bib? It's probably not a risk worth taking.