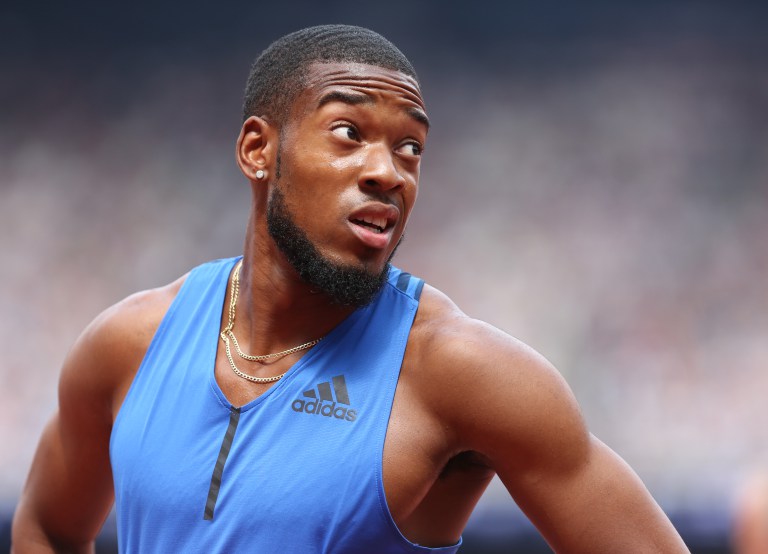 Great Britain's dramatic 4x100m relay win at this year's World Championships was pretty damn awesome. In front of a home crowd, in London, the mens team put on a real show to bring home gold. They even beat Usain Bolt, in his final race, to the top of the podium.
The win saw GB clock an astonishing time of 37.47 seconds; the fastest in the world in 2017, and the best by a European team since 1999. Chijindu Ujah, Adam Gemili, Daniel Talbot and Nethaneel Mitchell-Blake all delivered the goods – but it's the latter who really stood out.
Mitchell-Blake, a Louisiana State University sprinter, held off the highly-rated Christian Coleman to win the final leg. The 23-year-old made it look fairly easy, too. But what must it feel like to achieve such a feat? Well, I asked him few questions to find out more…
Summer success
Firstly, how does it feel being a World Champs 4×100 gold medalist? 
It was truly amazing to be crowned a world champion in front of my home crowd, and something I will never take for granted.
What went through your mind when you were side-by-side with Coleman? 
Relax and Run! I knew the race would come to the wire and it would be a test of composure more than speed.
It was obviously Bolt's final race; did he speak to you afterwards? 
No I didn't get a chance to speak to him after the race, but prior to the race we exchanged a few words.
You came fourth in the 200m, too – is that a finish you're pleased with? 
I'm content with it. When you put things into perspective, being placed fourth at the World Championships is a great achievement – going forward I expect more from myself.
Career plans
You've spent a lot of time racing in America; has this helped you as a runner? 
Definitely! The competitive nature of collage sprinting prepares you for the world stage.
In terms of personal goals, what's on the radar over the next few years? 
Achieving medals, becoming a consistent factor in global sprinting and hopefully being an inspiration for the younger generation.
And finally…
If you could go for a run with anyone, past or present, who would it be?
Frankie Fredericks.
How would you describe yourself as a runner in one word? 
Resilient!
Follow Mitchell-Blake on Twitter @NethaneelMB and Instagram @nethaneelm.b