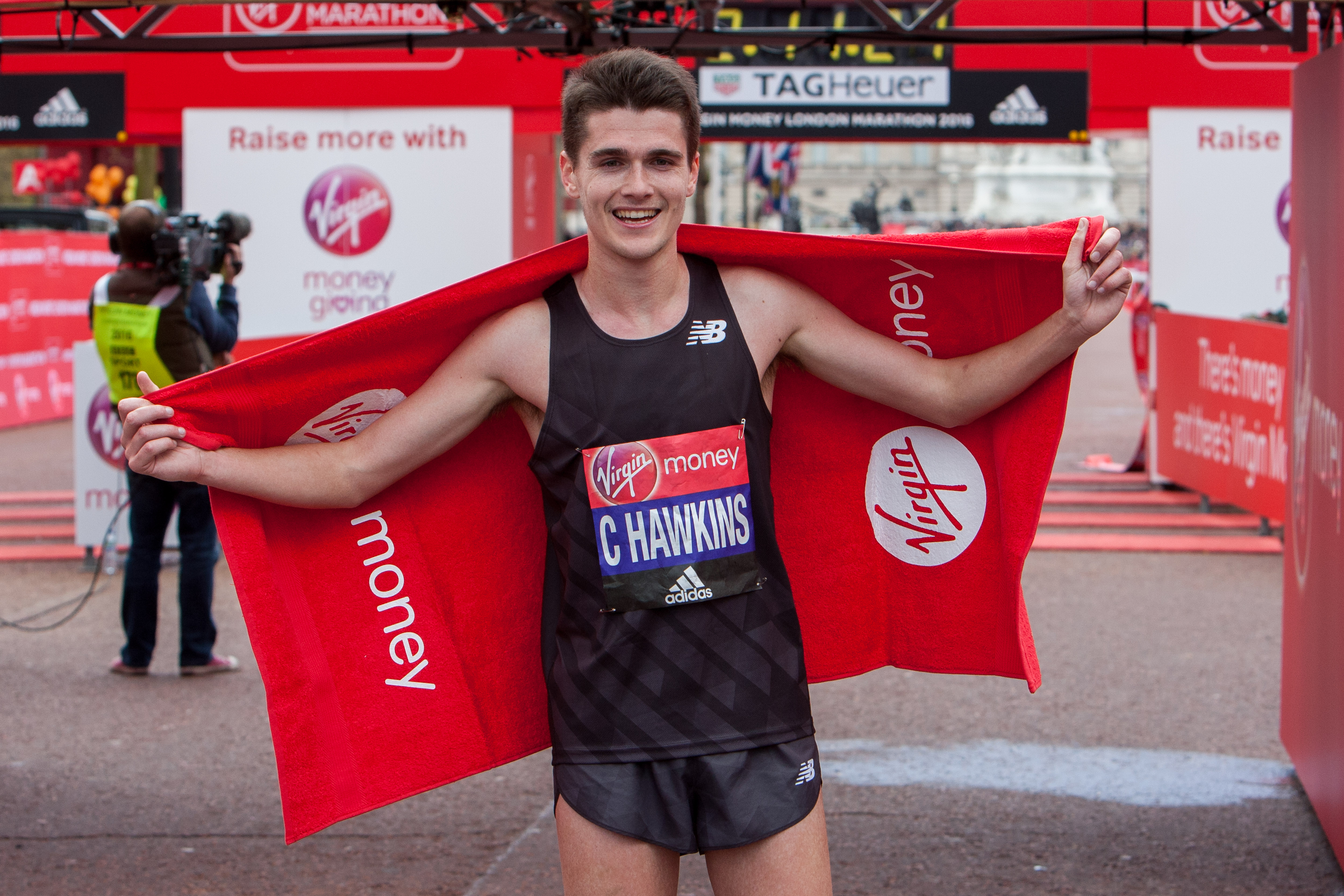 As I walked into the room, Callum Hawkins was sat calmly in his seat. Relaxed, sporting a camouflage jumper and casual jeans, he then politely stood to shake my hand. Unless you knew who he was, you would never have known that this was one of Great Britain's most talented and talked about marathoners.
Hawkins is lining up toe-to-toe with Mo Farah at next year's The Big Half in London, in what is set to be an exciting elite race. This is why the 25-year-old was in the capital to speak with me, but our meet happened to come right at the end of what has been the Scot's best running year to date.
The long-distance runner has produced some breathtaking performances in both half marathon and full marathon distances this year, clocking some record times across the world. Keen to unearth some of the secrets behind Hawkins' great form, I asked the upcoming star all about his impressive past few years.
A successful year
You've had a busy few years; what has been your biggest achievement?
I think it's got to be coming fourth at the World Champs in London, that's got to be the biggest achievement. It was really special doing that at your home major championships, so it was pretty special.
What were you hoping for going into the World Championships?
The way training was going – and running 60:00 for a half – I thought that maybe I could sneak a medal if everything went right for me and everything went wrong for everyone else. Unfortunately a few of the big guns managed to perform and keep me out, so I was a little bit disappointed afterwards. But looking back, I don't think there was much more that I could have done.
Have you had time to reflect and learn from the experience?
I'm glad the way I ran but I'm still disappointed I came fourth, I don't think I'll ever get rid of that. I know that I couldn't have done any more, though. I was pleased with the way I managed to keep a cool head when a big hammer got dropped, so it's definitely helped me to know what I need to do to be up within the medals. I know what to do now training-wise to make that jump and that step.
Gaining confidence
You won the Great Scottish Run in 2016; how do you look back on that?
That was a weird one, it kind of came out of nowhere! It was just five weeks after the Olympics and I hadn't actually done much training going into it. I went out and ran 60:24, and later on they measured the course distance and it was short, but it was definitely a sub-61 performance.
I beat the reigning 10,000-metre Commonwealth Games champion, so it was just a great run. That set it up for me to have the confidence to run the European Games and get a medal there at the cross-country, and then go on to have my best ever season in 2017. So yeah, it gave me a lot of confidence.
What has been behind your great half marathon form in 2017?
At the start of this year I didn't have a marathon, so I was mainly focused on half marathons. But I think the main reason has just been four years of consistent training. I've not really had too many setbacks or big injuries, and the confidence I've taken into 2017 that I can run those times – and I can be competitive at global events – has been the main thing.
Do you prefer marathons or half marathons?
Half marathons are good but the marathon's just special, you can only do a few per year and it's just different. I usually pick them around competitions, but it's mainly to do with who else is running it because I always want to run with the best. I don't like to shy away from who's there and what the course is! It also depends on my needs and what I want out of the marathon.
Training and planning
What's the hardest thing about being a professional marathoner?
The marathon is just such a brutal event; you can train for months and months of the year. I think my next one is in 20 weeks, but you can start well before that and you can pick up a niggle or a cold before and then it's months down the line. Or on the day you can just not be feeling it; it can be something so small that impacts upon so many months of training. That's probably one of the gruelling parts of it; it's so much effort that can be easily taken away.
How often do you train a week?
Usually every day, but it depends on what time of year. I usually start off my marathon plan with doing speed and 10K stuff, around 100 or 110 miles a week. Then when it gets to actual marathon preparation weeks I'll be doing 120 miles a week, with 20-mile sessions. I usually do most of my stuff on single runs, so I then have the whole day to recover and just put my feet up or go for a sleep!
How much do you focus on your nutrition?
I don't focus too much on nutrition because I feel I would go crazy if I was too strict with it! I think through my mum's cooking I actually eat healthily, as she's taught me what to eat now that I live on my own. I don't need to think about it too much, but a bit of happy food keeps me sane. Frequent eating helps, and after a session I usually just take recovery stuff – luckily High 5 supply me so it's easier in that sense.
Future hopes
You're racing The Big Half next March, what are your hopes for that?
London Marathon Events contacted me and asked if I was interested, and I looked at it and it was six weeks before the Commonwealth Games. So it fits in perfectly, it seems to work for me. Also with it being in London, I don't need to travel too far so I shouldn't feel any effects from travelling. It's high quality too, which I don't shy away from. Mo Farah is racing so that should make it even better, I like racing the best and Mo is the best! I can't wait to go head-to-head with him.
Where is your focus heading into 2018?
Next year everything will be towards the Commonwealth Games, that's my main aim. I'll try and go for the win or get a medal, and from there it will be – depending on how I recover – the European Games. And then on from there it's Tokyo, that's going to be the next big one!