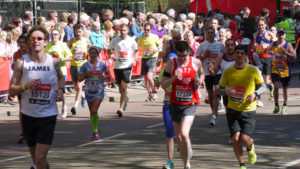 Are you a secret 'Great British Bake Off' fan? If so, you may be interested to hear something running-related about a number of previous contestants.
Thirteen of the show's former bakers will be running the 2018 Virgin Money London Marathon on Sunday 22 April, raising money for a variety of charities.
Great Ormond Street Hospital Children's Charity, Mac Millan and World Vision will all receive support by the Bake Off runners, who all featured in one of the first seven series.
Well-known faces
The Baker's Dozon includes well-known names such as Selasi Gbormittah and Jane Beedle from 2016's series, Frances Quinn and Chetna Makan.
Swapping their spatulas for trainers, the runners – aged 21 to 63 – will no doubt be hoping for good support throughout their marathon journeys.
You can keep up with all of your baking TV stars across social media, specifically on their personal Instagram accounts, before the big race on 22 April.
It's fair to say their post-race treats are worth checking out at least, right? After all, nothing beats a homemade snack after a long training run.
The full Baker's Dozen:
Selasi Gbormittah (Series 7, age 31, hometown London – @selasigb)
Jane Beedle (Series 7, age 63, Beckenham – @janebbakes)
Tom Gilliford (Series 7, age 27,  London – @tomgilliford)
Michael Georgiou (Series 7, age 21, Durham – @michaelgeo96)
Ian Cumming (Series 6, age 44, Cambridgeshire – @icimages)
Mat Riley (Series 6, age 40, Sevenoaks – @thelifeofrileyfamily)
Alvin Magallanes (Series 6, age 40, Bracknell -@alvin_magallanes)
Richard Burr (Series 5, age 41, London – @richardpburr)
Chetna Makan (Series 5, age 40, Broadstairs – @chetnamakan)
Kate Henry (Series 5, age 45, Brighton – @treaclebakes)
Enwezoer Nzegwu (Series 5, age 42, Portsmouth)
Frances Quinn (Series 4, age 36, Leicestershire – @francesquinn)
Beca Lyne-Pirkis (Series 4, age 36, Cardiff – @becalynepirkis)