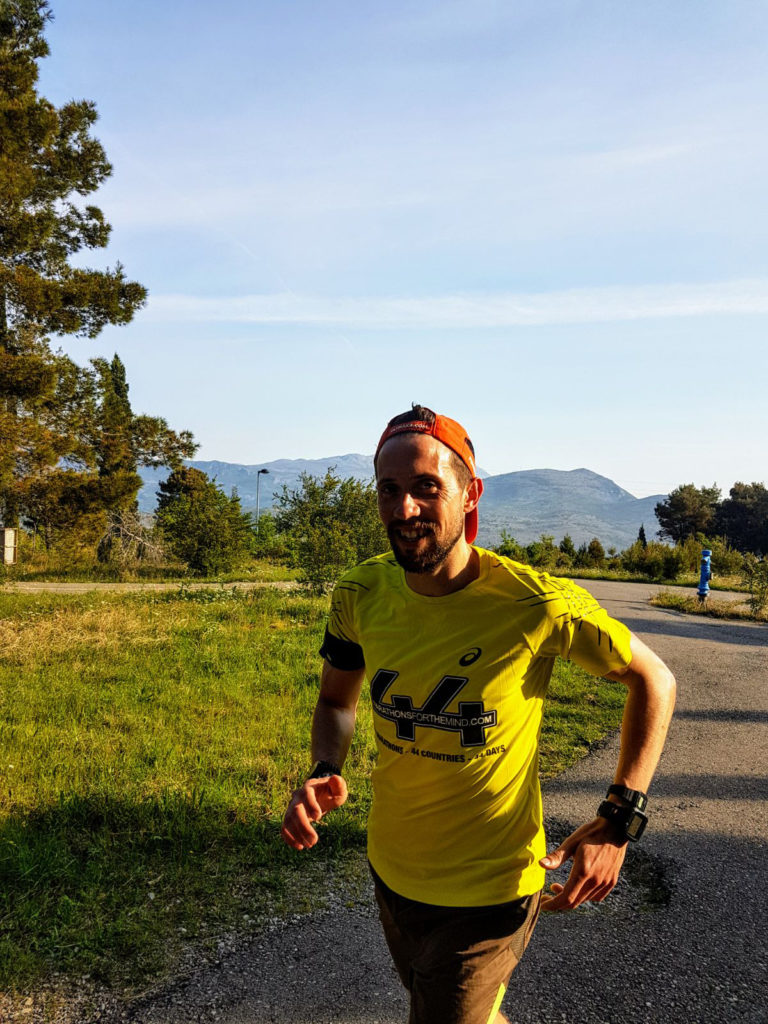 Peter Thompson likes a challenge. In 2017, he ran a marathon in every country in Europe (44) in consecutive days – averaging just over four hours for each marathon. In doing so, he not only proved his elite endurance – and made me reassess the impressiveness of my run to work this morning – he also raised over £19,000 for the mental health charities he supports. For his efforts, Thompson won a much-deserved regional Pride of Britain Award.
One year on and, not content with one extreme feat of endurance, Thompson has set his sights on an even tougher test: running the entire route of the Tour de France.
How and why did you come up with this idea?

The idea formed after my last challenge [running 44 marathons in 44 European countries]. After what I did last time, I was looking for something else. I got really into the Tour [de France] in the last couple of years – I love the sporting side of it and the visual element and the teamwork.
Before that first challenge, I fell out of love with running, really, through being so fixated on time – and everything that goes with that. I lost the reason I fell in love with running in the first place and I got to the point where it just wasn't fun any more. What I wanted to do was get that love for running back.
Once I had the realisation that you can just go out for a run and not worry about what time you get, running became fun again.
Has anyone ever attempted to run the Tour de France route before?
Five years ago, an American lady called Zoë Romano did it. She took about 80 days. I've managed to speak to her a little bit via email and she's been great at giving me advice.
The main advice she's given has been on the recovery side of things. During my last challenge, I didn't have much time to recover because of the travel element, but she told me about the recovery routine she did for one hour at the end of each day – even when she really didn't want to do it.
She also gave me confidence in terms of the route and how the French drivers and police might react to me when I'm running up in the mountains: she said it's all going to be alright, and I believe her!
You'll be running predominantly on the road – do you see any traffic-related danger in doing that?
I've got to be sensible – I'm not going to run the wrong way down a dual carriageway. But so much of the route is on quieter roads, and not on huge motorways, so from that side of things I think it's going to be OK.
Obviously I want to run the entire route – that's the plan – but I've got to be flexible, too. If there is a motorway section that's unrunnable, I will find another way round.
Is there anything you learned from your last challenge that can help you with this one?
I think just being flexible. Last time I had everything planned out to the very finest detail, but once you actually a lot of that goes out the window. Until you're in the moment, it's very difficult to replicate how you're going to feel, so this time around it's all about having that flexible mindset.
More importantly, though, I've got to enjoy it as much as I can. I'm doing this to raise money for two brilliant charities and it's going to be a great adventure. I don't want to be miserable! I want to take in the scenery, and my girlfriend's coming out to support – she's driving the car round – so it'll be a nice chance to get away with her.
Is she a one-woman support crew or will others be helping out?
She'll be the main support: her and her red Skoda. But I do also have friends coming out for various sections – so people coming out for a week or a couple of days. By and large, though, it will be the two of us.
She will be plying me with food and throwing me in the back of the car to return to wherever we're staying that night. I certainly couldn't do it without her.
How do you train for running through the Alps in…Bournemouth?
We've got The Purbeck Hills nearby. I've been running up and down those. There's a zigzag route that goes from up in the hills, down onto the beach, so I've been doing lots of ups and downs on that. I've also been doing stuff in the gym to strengthen my legs (and I never normally do any gym work), as much in preparation for the downhills as the climbs. When you're legs are tired, coming down is not easy – I think I'd rather continue to go up!
I'm doing around 90 miles a week. My PB for the marathon is 2:25 – I set that a few years ago – so I'm used to doing a fairly high mileage. I've been doing a couple of long runs – and sometimes double-days – at the weekends, just to get used to time on my feet. For me it's about getting to the start line in one piece as much as it's about being fit enough to do it.
Is there any stage in particular you're worried about?
One of the most iconic climbs is Alpe d'Huez, which, yeah…I mean it's a ridiculous climb! I'm scared of that one, but it's also the one I'm most looking forward to, because it's such an iconic stage of the Tour.
Peter is raising money for Mind and Livability. You can help him hit his fundraising target here.
Website: marathonsforthemind.com
Twitter: @marathonsftmind
Instagram: @marathonsforthemind
Facebook: Peter Thompson – Marathons for the Mind