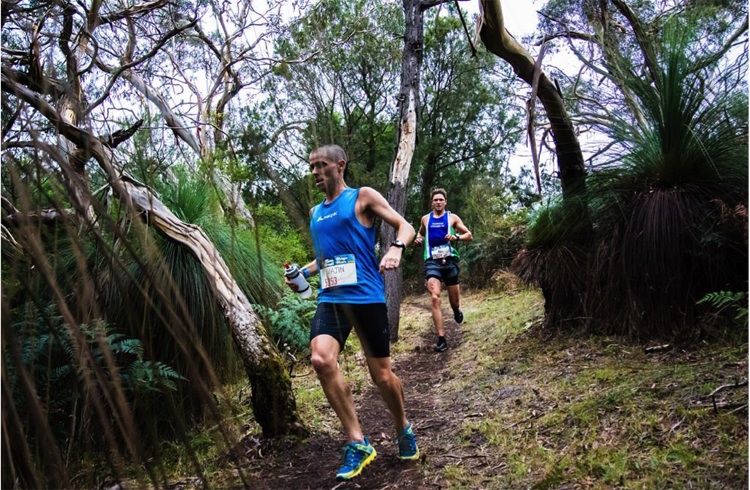 First, some geography. The Two Bays Trail Run follows the eponymous trail on the Mornington Peninsula, south-east of Melbourne, Australia.
The 2015 Two Bays Trail Run was the 11th running of the race. Prior to the start, the course records were held by the denizens of the Australian ultra-running community: Mick Donges (old course), Dion Finocchiaro (new course).
But with an influx of top-quality athletes for this year'a 56km event and National Championships, there was an expectation of the course records being reset.
This event has a real community feel, bolstered by enthusiastic volunteers and multiple viewing points for support along the route.
An out-and-back route, the 56K race traverses the peninsula from Cape Shank to Dromana, incorporating its highest point, Arthur's Seat, at 1,000ft.
Passing through three National Parks along the course, participants experience vast variations in trail conditions – from tree-lined single track, to sandy trails, to tarmac road. Runners enjoy panoramic views of the Mornington Peninsula all the way to Melbourne.
As with all Australian ultras, wildlife and weather play a huge part in the races make-up. Sightings of kangaroos, wallabies and snakes are commonplace. So a timeless piece of running gains new significance at Two Bays: do not go out too fast. Let the front-runners go ahead and scare those snakes away!
The course involves an undulating first 5K, then a steady incline through Greens Bush National Park, leading up to the short and steep climb up to Arthur's Seat. This is then followed by a fast and steep descent to the turn-around point at the Dromana Foreshore (where a bell is waiting to be rung). Then, you guessed it, that fast steep descend becomes a steep, slow climb. Followed by a steep descent and relatively friendly section of descending trail. At the final road crossing (attentively manned to stop the flow of traffic) you could be forgiven for thinking it was all down hill for the final 5K, but with 51K in the legs, the minor undulations from the outbound section now feel like mountains.
At the sharp end of the race, Magnus Michelson was in the lead until the 52K-mark. This is where eventual winner Vajin Armstrong, overtook him to claim the crown. Rob Walters completed the podium.
With the event doubling as the AURA Short Trail National Championship, a second podium was in place for the day, which saw the Australian title going to Magnus Michelsson, followed Majell Backhausen (that's me!) and Francesco Ciancio.
For the female podium, Kirstin Bull took top honors, followed by Tash Fraser and Kellie Emmerson.
The Two Bays Trail Run comes highly recommended. It provides all that Australia has to offer in one big 56km stretch of trail – plus some much-needed sunshine for you Brits!