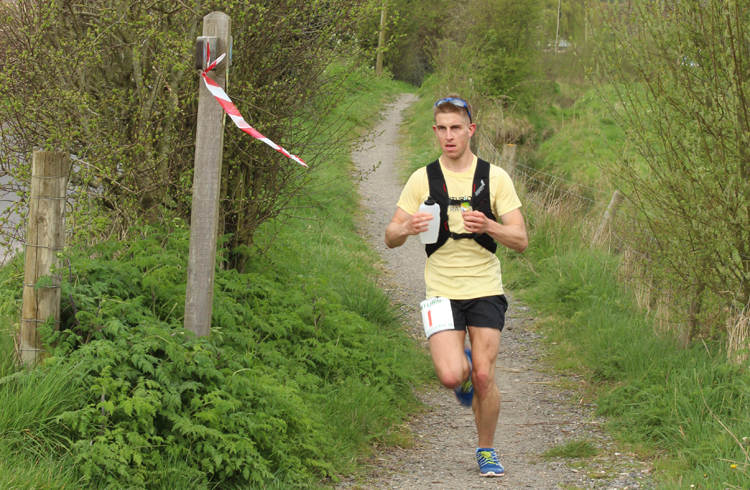 If there's one thing that tells me all I need to know about Centurion Running, it's this: they have a waiting list to volunteer at their races. That's right, they have a surfeit of people who want to spend hours of their leisure time standing in a wind-blown field, tending to smelly, whining ultra-runners for no reward other than a hurried "thanks, guys" as the runner shuffles off to the next checkpoint. Centurion does offer a free place in the following year's race to those who volunteer a certain amount of hours. But it's a testament to the strength of the brand that most of those places go unclaimed every year, people wishing just to enjoy giving something back to the sport.
The Centurion season opener is the hotly contested South Downs Way 50, from Worthing in West Sussex to Eastbourne in East Sussex, a rolling 50-miler through some of the finest countryside the south of England has to offer. Now, I used "rolling countryside" in my previous sentence because that's how it was described to me by last year's winner and course record holder Paul Navesey, who finished in the frankly ridiculous time of 6:11:28. If left to my own descriptive devices, I would probably have used some thing like "for feck's sake, is there ever a flat bit?" or "I'm not going up there, you can't make me", but Paul is a far more accomplished runner than I so we'll stick with "rolling".
Last year I had the pleasure of crewing Paul to his eventual win. I now appreciate there are lots of things in the world worse than thinking your runner is quicker running point to point than you are driving but at the time, stuck in traffic, I couldn't think of one. Thankfully I didn't let him down but there were times it was a close-run thing.
To the Victor the spoils
But this year it might be a somewhat different prospect. Navesey is back to defend his win and course record but he's facing stiff competition from a very strong field including a relative newcomer, Victor Mound. This will be Victor's fourth ultra to date but with a strong win at the CTS in Dorset and a 5K speed of 14:53 that he looks able to carry to longer distances, he'll certainly be one to watch.
But it's the ladies field that particularly exciting this year. With last year's winner and course record holder Edwina Sutton taking a year off to expand her family, there's half a dozen ladies who will look towards her time of 7:09 last year as the benchmark to aim for. Fresh from being awarded her GB Trail Team vest is Sarah Morwood, winner of four out of five of her 100-milers so far and having placed just outside the top ten at least year's UTMB. Sure to be pushing her is Sarah Perkins, Emily Canvin and recent world 50K treadmill record holder Gemma Carter. All three have a proven track record over the last few years, Sarah coming into form nicely after the winter break with a win at this month's Steyning Stinger marathon.
Emily and Gemma will prove no easy pushovers, howeve. Emily is still the NDW50 course record holder from 2013 when she completed a double win with the SDW50 and Gemma's confidence will be high after her recent world record 50k treadmill run. Whether that speed will carry over onto the trails will remain to be seen but it'll certainly be an interesting race at the front.
So if you do happen to be at a bit of a loose end on Saturday 4 April, and you're anywhere near Worthing in West Sussex, pop along to see some of the finest trail running the south has to offer. And if you see a tall Irish bloke rushing around trying to catch up to his runner, by all means say hi – I promise I'll have a pocket full of Haribo and a ready smile.