Ahh Guildhall, a City of London powerhouse, a ceremonial hub in the heart of the capital – and now, on a wind-chilled Thursday night in mid-September, host to the annual Bloomberg Square Mile Relay.
Jenny Bozon, Women's Running's digital writer, and I are joining forces with eight other impeccably professional media-types – months of training behind us; here for what promises to be a highly competitive event and not, as cynics may suggest, for the famed after party – to make up the Speed Communications team.
Our rivals, the imaginatively named Speed Communications 2, are made up of a distinctly unfair selection of speedsters, including MR's Rick Pearson and Paul Clayton.
Guildhall Yard is abuzz with nervous chatter, fused with the smell of leatherbound books and rich mahogany (this is a corporate event and the bankers are out in force). As the frontrunners make their way to the start line, Michael Bloomberg, an American business magnate with a cool 37 billion to his name (there's a man with his eye on the thermostat) is joined by former rugby World Cup winner Will Greenwood, and the most natural pairing since Tom and Jerry get proceedings underway.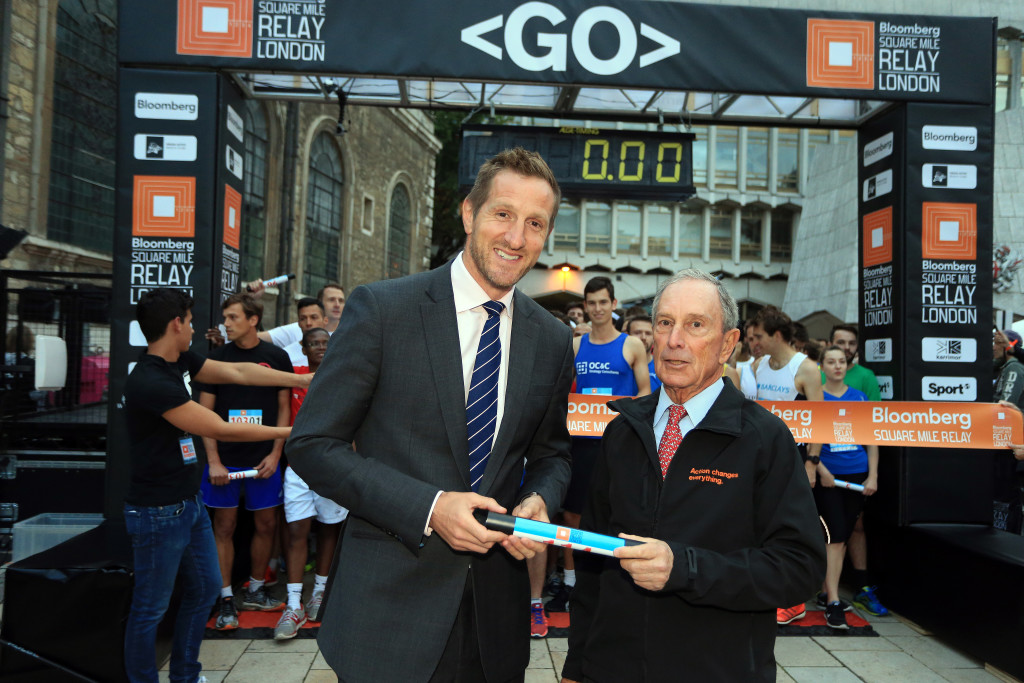 A big screen displays the not-so-pretty views of the on-course cameras as they track every regretful grimace of those who have inevitably set off at 200m pace, before realising that the one-mile distance is, in technical running terms, a bastard.
Soon enough, our team's second runner rounds the corner and it's my turn to make my way through the rabble of onlookers to stand in wait. Snatching the baton, I hare off at Prefontaine-esque suicide pace (for the cameras) and, once out of sight, ease to what I presume is a reasonable one-mile effort.
Talk at the start line was of some dastardly stairs at the half-way mark, so I brace myself for a slight climb. After sprinting for 800m, however, said 'slight climb' feels more akin to summiting Everest than some steps on Noble Street.
Mercifully, the descent is via a wheelchair ramp, although my hopes of making up for lost time are dashed by the bloke in front who, embracing the community spirit that running never fails to evoke, is looking over his shoulder and actively blocking my path each time I make for the overtake.
Flat ground awaits, though, and as soon the course opens out I make my move, exercising incredible restraint in not flicking my cold-hearted adversary the V on the way past.
And then it's over. My ability to rustle up a sprint finish and shock at reaching the end suggest I didn't quite give it my all, but that's a welcome problem to have for someone who's used to races being an exercise in mental fortitude and the art of grimly hanging on.
At the sharp end of the field, the battle of the peoples' champs sees Barclays pip J.P. Morgan to first place in a sensational collective time of 53mins 39secs. Speed Communications 2, meanwhile, secure a highly impressive eleventh-placed finish with a time 59:31. Mine and Jenny's team, on the other hand, are heroically propping up the table in ninety-sixth.
Now, if you don't mind, it's time to replenish with the finest post-race nutrition 37 billion dollars can buy: pie and beer.