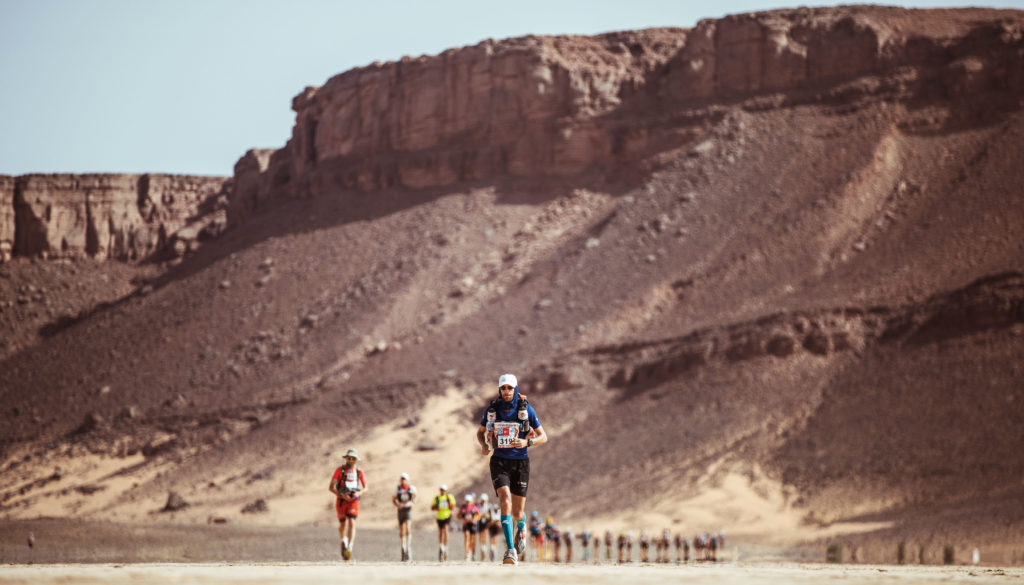 In 1984 French concert promoter Patrick Bauer went for a walk: a 200-mile walk in the Sahara desert.
Afterwards, whether through altruism or sadism (more likely the latter), he decided other people should follow in his footsteps. And the Marathon des Sables (Marathon of the Sands) was born, a multi-stage race of roughly 250K (it varies each year) through Morocco's Sahara Desert.
It was first run in 1986, with 186 competitors, and 32 years later that number is close to 1200. Ever since the Discovery Channel followed James Cracknell's attempt, the British presence at MdS has been huge and, for many, it's their first event of this nature.
But it has its detractors, including myself. I once wrote that the Marathon des Sables (MdS) is, "incredibly expensive, more famous than it deserves to be and there are many, many, many more spectacular, impressive, interesting and demanding events around." But that was before, er, I'd actually done it. This April I ran the 32nd MdS. So is it time to sit down, tuck my napkin in and treat myself to a large slice of (dehydrated) humble pie?
Some ultrarunners are snobbish about MdS, partly because it continually rolls out the epithet 'toughest footrace on Earth', when clearly it isn't even close. You only need to see MdS's completion rate of well over 90%, compared to less than 50% for many ultras, to see there are several races tougher than the Sahara's most photographed, even in the UK. Sure, sand, a heavy pack and 50 ̊C temperatures aren't conducive to a comfortable jogging holiday but the cut-offs are generous enough that it can be hiked.
The Marathon of the Sands also costs almost £4,000 to enter (including return flights to Morocco) putting it out of reach for the majority of runners. I was one of those haughty runners who pretended I wasn't interested in MdS. Then, by very good fortune, I was offered a place and the images of vulnerable runner versus punishing desert started to look compelling. Plus I'd never visited Africa, let alone the Sahara. But I went to Morocco with some concerns.
Intense intents in tents
I've only been running long distances for four years and my wife says I'm addicted. I can't imagine not doing it. I've completed the Spine Race, Dragon's Back Race, UTMB, set a fastest known time on the 630-mile South West Coast Path and represented GB at ultra-trail running.
I know that if you pace it sensibly and keep shoving cake in, you can pretty much run forever. I appreciate I'm in the minority when I say that 237K over six days isn't too intimidating to me. But sand is. Temperatures of 50 ̊C are. And running with a heavy pack sure makes me grumpy. So I took no luxuries – no pillow, stove or camp shoes – only enough sleeping mat for my hips and barely enough food.
Other concerns include heat stroke, dehydration, hypernatremia (we're instructed to take two salt tablets per 1.5 litres of water) and camel spiders. Also, I only had five weeks' training; my longest run just 19 miles, my biggest week 53 miles. I was only half-fit. And I knew I'd be hungry.
But I got some help. Running Reborn's Shane Benzie taught me about running in sand; registered sports dietician Renee McGregor gave me some key nutrition tips; and University of Bath let me use its heat chamber.
Arriving in the Sahara – stonier than I'd imagined – wearied after a three-hour flight and six-hour bus journey, the organisational scale of MdS hit me.
There's a huge, three-deep circle of black tents, hundreds of them, for the 1,200 runners, and another small village of white tents for the 700-plus staff. Jeeps and lorries are everywhere. Helicopters whirr overhead. It looks like a refugee camp, albeit a very nice one.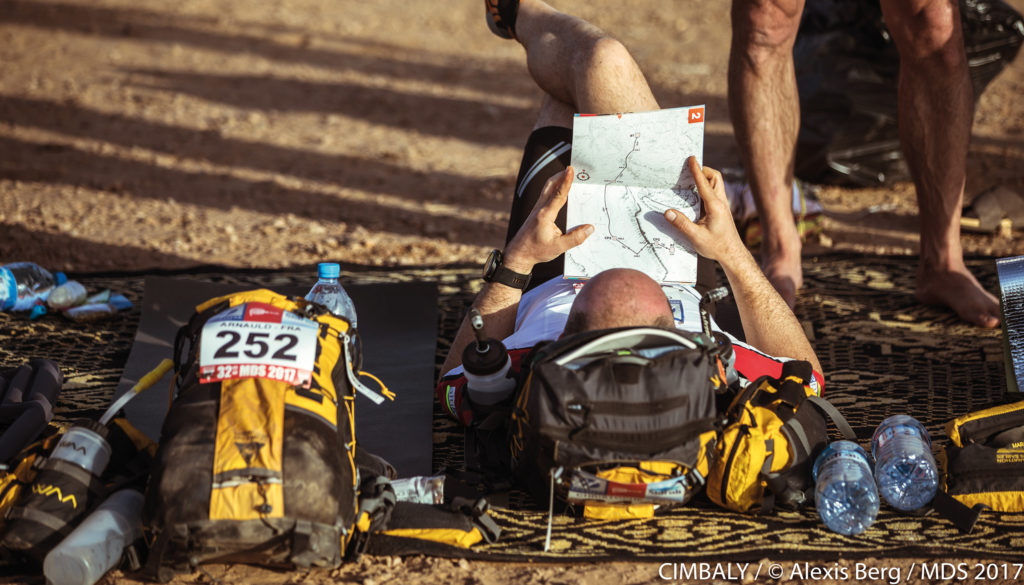 Meeting my tent mates feels like the first day in the Big Brother house. Whether it's the cold, my minimal sleeping mat or nerves, I don't sleep well on the first night.
Crazy in the heat
Day one is mostly spent queuing to get race admin done. The next morning, we're standing under a huge white inflatable arch, with AC/DC's 'Highway to Hell' blasting out and a helicopter circling overhead. Then we charge into the desert.
I watch helplessly as the speedy Moroccans glide over the sand and out of view. We cross stony plateaus and small dunes, all under the hot sun – it's somewhere above 45 ̊C. It's OK when we're blessed with breeze, otherwise we're turkeys inside an oven on Christmas morning. The terrain is worse though. Dunes may look nice in photos, but they're horrible to run on. You'd barely call it running.
Whether it's rising temperatures or the limit of my current fitness, at 25K everything feels more difficult. Runners pass me and I stop to empty sand from a shoe. Confusingly though, there's none to empty out. I finally tumble across the finish line into a camp. It's been about the hardest 30K race I've ever run.
A soon-familiar routine starts: a shot of sweet mint tea, collect water and start clearing stones from under the rug in anticipation of my tent mates' arrival. They appear in various states of disarray. Each day at least one comes in shaken and stirred, crashing to the floor, needing cooling down, persuading to drink and eat, or a trip to the medical tent, Dr Trotters, where one tent mate narrowly avoids an IV drip.
(When racing out here, if you let hydration, nutrition, body temperature or salt intake slip, even for a few minutes, it hits you hard.)
The delivery of printed emails is a daily highlight. Except that I'm next to Twitter's Susie Chan, who gets literally hundreds of messages, to my five. In no time, pooing in a plastic bag, using my Inov-8 Terraclaws as a pillow and being permanently covered in dust all seem entirely normal. MdS trashes feet like no other race, but I only have two small blisters. I try to keep quiet about that as my tent mates will only hate me.
Day two is 40K, but with fewer dunes and more flat stretches.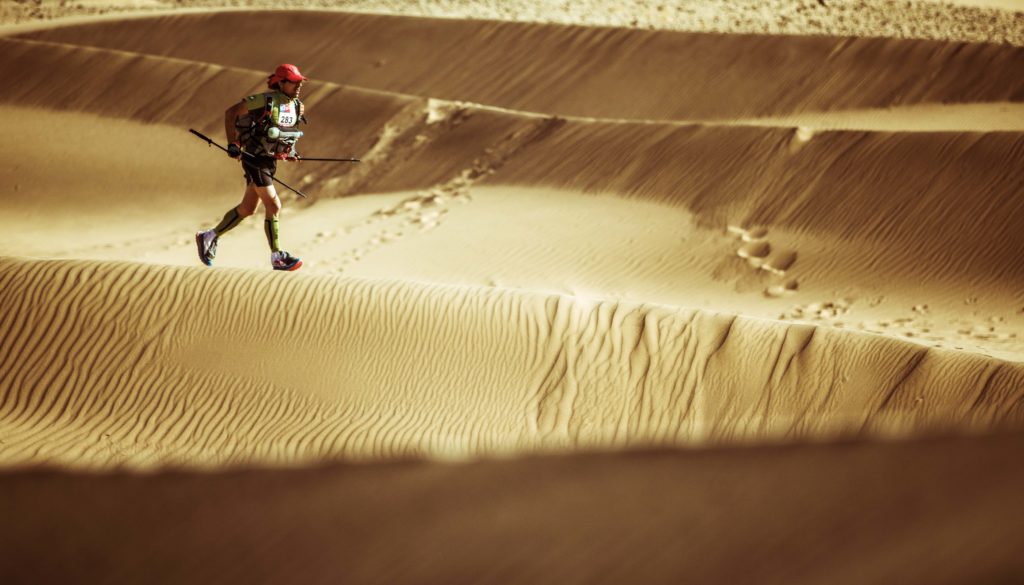 I enjoy it initially, running with women's race leader Elisabet Barnes and an anonymous Frenchman for some time. But again at 25K things suddenly feel hard. I fight a losing battle with dunes, before climbing a small rugged ridge, a jebel, via a canyon that cooks me alive. From the top though it's a hilarious steep-sandy descent and I thunder down, whooping and kicking up a storm of sand.
Day three begins with the sight of some retirees sheepishly queuing for transport home but otherwise it's ace. With improving fitness, acclimatisation and a more technical, mountainous route, I love chasing Elisabet along a technical ridge, with huge views of Saharan valleys and small mountain ridges either side. It's skyrunning in the desert and learning to see the deceptive beauty in the barren scenery. It's awe-inspiring to see how relentlessly hard Elisabet and ultra-trail champion Nathalie Mauclair work.
We need a rope to help climb back up yesterday's jebel. After a fun rocky descent, we scrap with more cursed dunes. We lose markers briefly, before 6K on a hard stony plateau – like running on Lego – where temperatures are in the high 50s. I see mirages of a camp ahead.
Mr Sandman
For the infamous 86K 'long day,' instead of starting at the normal 8.30ish, the top 50 are held back for logistical reasons till 11.30, when it's hotter. Some local boys run with me for a while and we high-five. I start to pass the runners who left earlier, offering encouragement when I can muster it.
But as it gets hotter it gets sandier. I work harder but go slower. I now need three litres of water between checkpoints, which are every 10-12K. A cursed endless stretch of dunes slows me again, and I feel hungry and grumpy for the last 20K, arriving at camp close to 10pm under another wondrously bright moon, after nearly 11 hours of running/dune battling.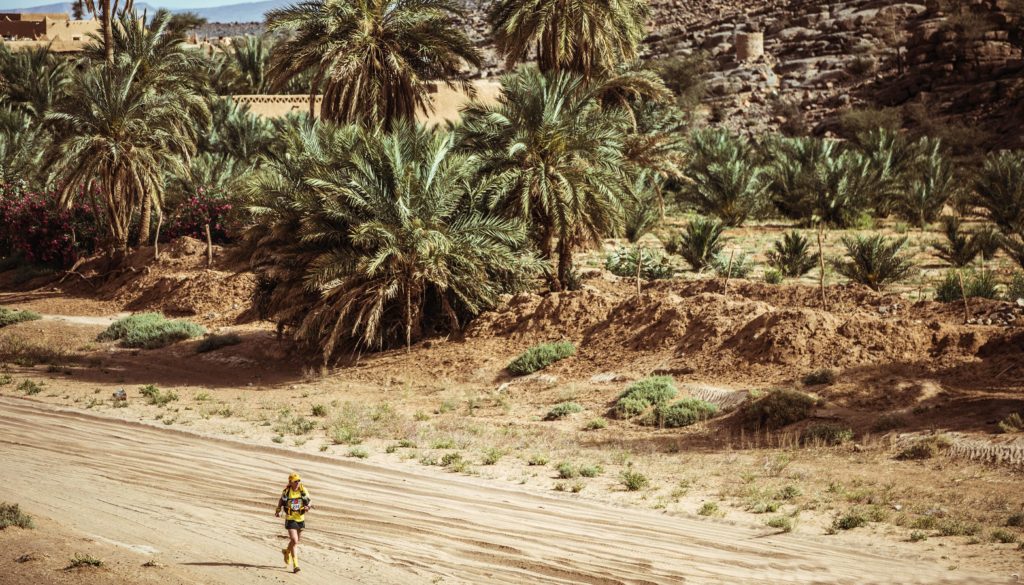 By lunchtime the next day – a rest day for most of us, which soon has my tummy rumbling – two tent mates still aren't back and we're worried. One of their trackers has disappeared, we're told. But finally we see them and those who can, dash across the stony desert to help them back to the tent. Their efforts – Jo has rheumatoid arthritis making his joints super-painful, Mark severe chafing in the worst possible places – are so inspiring. They're cracking jokes within seconds of arrival.
After a marathon on the final day, there's a party feel at our final camp and a band playing incongruously in the desert. Queues for a single can of beer are long and desperate, before presentations and a short film of the 2017 race.
On day seven, after a 7K hike and a six- hour bus journey, we return to Ouarzazate and the most beautiful sight in the world: the biggest, tastiest buffet I've ever seen. I eat so much I can hardly sleep due to discomfort and toilet visits.
Did I eat any humble pie? A mouthful or two, but not a whole slice. It's a very expensive race. But you can see why. I've done several tougher races. But MdS is still a really testing event, especially for those who spend so much longer out in the desert – for some, their long day was longer than my whole race. Especially the guy who ran the whole thing dressed as a cow, another playing a ukulele, double-amputee Duncan Slater, cancer-defying Kevin Webber and other heroes like them.
My most special memories aren't about the running though, but life at camp. It's been years since I spent so much time without anything to do. All this glorious lazing around, doing old-fashioned things, such as talking. Under our precious piece of shaggy, dusty, black cloth, a tribe was formed. We shared kindness, precious calories and bad jokes. When the going got tough, it was tent mates pushing each other onwards.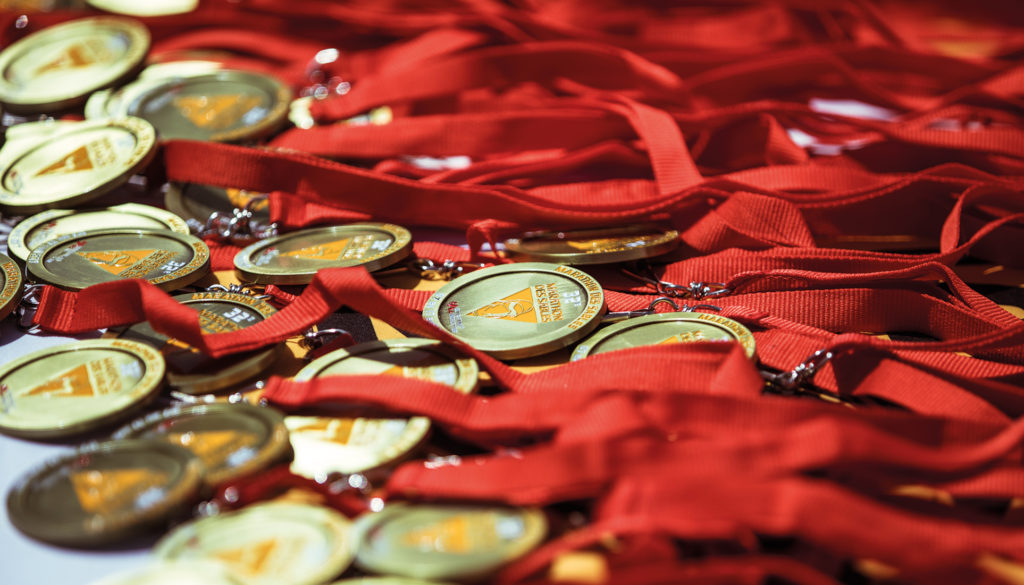 ---
THE FIVE TOUGHEST ASPECTS OF MdS
■ The heat. With temperatures in the high 50s, keep body temperature down with a regular dousing of water. Key areas are neck, armpits and groin. Pre-race heat acclimatisation is also key.
■ The feet. MdS trashes feet. Gaiters are essential, but the Velcro rand can change the shape of your shoes, so some go half a size up. A combo of Inov-8 Terraclaws, Injinji socks and Camphor Spray worked very well for this writer.
■ The pack. Minimum pack weight is 6.5kg. Much more will slow you down, meaning you're out in the heat longer and more likely to have problems. Do you really need that feather down jacket?
■ The sand. MdS is less sandier than you might imagine. But dunes are a swear word. When climbing, try to spread weight laterally, says Running Reborn's Shane Benzie, to limit sliding.
■ The fuelling. As body temperature rises, it's less able to digest carbs, says nutritionist Renee McGregor, so you're more reliant on carb stores you already have. Eat early to avoid 'bonking'.
SWELTERING SAHARA
Where is it? The Sahara ('the Greatest Desert') is the largest hot desert and third largest desert in the world, after Antarctica and the Arctic. At 9,200,000sq km it's comparable to the US in size and takes up most of North Africa, stretching from the Red Sea to the Mediterranean and the Atlantic Ocean.
What's the terrain? There are plenty of dunes, which are very picturesque but hell to run/move in. But much of
it is stony plateaus (think running on Lego), salt flats, dry mud – mostly good, fast running. Small rugged ridges and jebels provide welcome relief/horrible climbs, depending  on how you see it. The Sahara has genuine mountains, reaching over 3,000m, though not at MdS, where overall vertical gain is negligible.