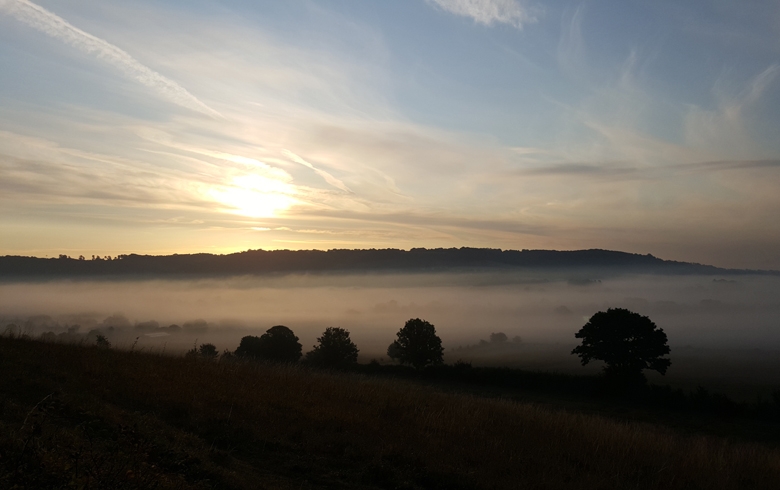 I'm tearing down the trail, sunlight dappling through the trees from the dramatic sunrise that's unfolding on the crest of the hill behind me. I duck under branches and skip over gnarly roots, pushing the pace for the sheer thrill of the descent.  I'm in my element, embracing the freedom of the simplest and most innate form of exercise known to man.  This, like many similar moments before it, encapsulates the motivation behind my new found obsession. This is why I run.
So why would I need to race? It's a question I've asked myself many times over the past couple of years, normally swiftly followed by "but what about all those people?" and "why do I need to compete anyway?" – each time convincing myself that I'll enter something when the time is right, that I'll get myself into a place where I'm able to take on one of the great ultramarathons and then, and only then, add a race to my diary.
That all changed with Project Trail.  By signing up, I'd also inadvertently entered myself into a race. A strenuous half-marathon along some of the most scenic coast line that the UK has to offer. A combination of the amazing trails that I love to explore and the competitive environment that I'd so far done my best to avoid.
"You should get some event experience under your belt" was one of the first things that coach Robbie Britton said to me when I revealed to him that I hadn't raced since I came third in the egg and spoon at primary school. Although he suspected I may have a competitive monster lurking somewhere within, he wasn't saying this just to push the 'run to win' angle. This was about preparation, learning pacing and strategy and ultimately feeling what it's like to run with others in a more structured environment.
My blissful morning run was therefore dominated by thoughts of events and, by the time I'd left the trails behind, I'd already decided to bite the bullet. On a quick internet search, I was delighted to find a race right on my doorstep, slap bang in the heart of my regular North Downs stomping ground. No excuses remained. My first event would be the Shoreham Woods 10K.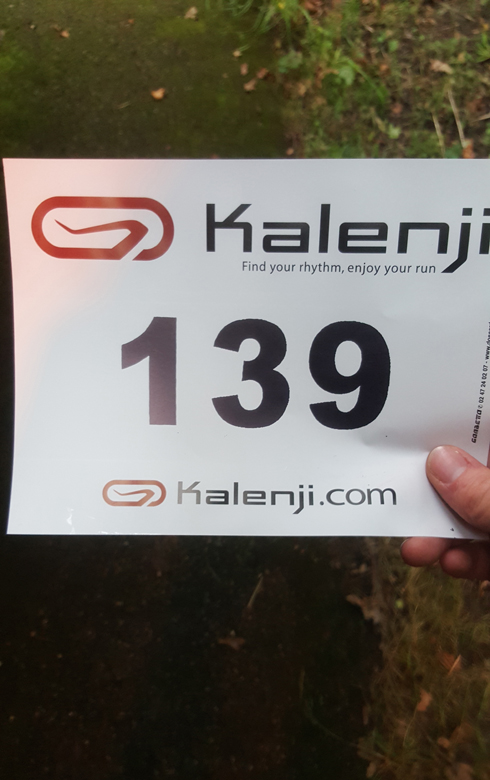 A couple of weeks later, I found myself stood in a woodland car park pacing around nervously among a couple of hundred other competitors. Some were stood chatting, others were stretching with serious expressions on their faces and the obvious super athletes were running around, preparing for victory. Thanks to Project Trail, I was dressed head to toe in some exceptionally cool Salomon gear and was attracting more attention than I'd wanted. A classic Mr 'All The Gear And No Idea' dressed like Kilian Jornet but nervously trying to work out how I was going to fix a race number to my t-shirt.
My normal preparation for a run consists of chucking my kit on hurriedly and heading out the door. The pre-event waiting around was killing me and I put my headphones on and listened to some loud music until I found myself being shuffled towards the start line. As we were herded forwards, I realised that I hadn't really thought out a particular race strategy. I had a quick look at a map of the course on my way through and decided two things: (1) I was going to push hard on the downhills and flat sections; and (2) I would try not to kill myself on the ascents. Strategy sorted! Now it was just a case of waiting for the all clear to run.
"I know you're going to fly off from the gun" Robbie had said the week before as we'd discussed my training, his tone suggesting that this may not be the best approach. As a wave of eager runners crossed the start line, those words echoed clearly in my head. Unfortunately, they directly conflicted with my new and carefully thought out race strategy and, as soon as we hit the first downhill, my instincts took over. With an 'it's better to burn out than fade away' attitude that's admittedly more suited to rock'n'roll than running, I started overtaking at pace, breaking free of the main pack and joining the back of a short line of runners who were no doubt out for victory.
As a few speedy figures disappeared into the distance ahead of me, I found myself on the wing of a runner who was keeping a similar pace to me. I decided to use him to gauge my own efforts. We were going strong, hitting six and a half minute miles and, by the 5K mark, we caught up with another runner. The three of us jostled for position over the rest of the course. I found the ascents tough, having pushed myself hard on the other sections but even some occasional 'fast walking' was keeping me close. In an act of naivety, I hopped past both runners around the 8K mark and pushed on, not realising the enormity of the two ascents we still had to face. Losing position on the second of these brutal momentum-sapping inclines, I raced across the line in the middle of my two competitors and gladly took my shiny medal from a waiting volunteer.
As the times went up, it dawned on me. Amazingly, I'd finished in the top ten. In fact, I was ninth place overall with a time of 46 minutes 11 seconds. With 660 feet of ascent, it was a time I was pretty pleased with and the fact that I'd done it without any race experience or particular expectation gave me a strange and newfound sense of achievement. Ok, I'll admit it, this previously reluctant racer was buzzing.
I stood around bantering with some of the other runners as they came in and finally engaged with the social side of the event. And that was the moment which, for me, encapsulated why I enjoyed the race. It had brought a different focus and a sense of achievement that it's hard to replicate outside of a competitive environment. It wasn't necessarily about beating others but about achieving something and sharing the experience with like-minded people.
It may never be the reason that I run but, after one event, my head has definitely been turned. Racing brings a different angle that enriches rather than diminishes my passion for the trails. It doesn't have to replace those awesome solitary runs that I need to balance out the stress of day-to-day life. In fact, it brings a new level of purpose to them. And it turns out that my competitive side was there all along. It's the same little monster that drags me out of bed for a training run or pushes me out the door when it's raining. The same beast that plants the seed in my head for running a particular route or covering a certain distance. It's the one that's been pushing me to improve, that encouraged me to apply for Project Trail and that wants me to be the best that I can be. And now it's got a taste for competition, it seems only fair to keep feeding it.