So many wonderful things, but where to put them all?
Women – and an increasing number of chaps – often have expensive handbags, seemingly bottomless pits that could fit all sorts of headtorches, waterproofs and energy gels if they saw fit. These, however, are not suitable for the high mountains of the UTMB, and finding one from the millions out there that work for you is a difficult task.
To start with, there are a variety of sizes, ranging from 1 litre all the way to your 90-litre expedition pack. Runners have a range of equipment they need to carry, and many struggle to get it all into anything smaller than a suitcase. However, with the help of Mr James Elson, you can fit everything into a 3-litre pack. If the weather is particularly crap, you will need more kit and perhaps a bigger pack. But let's be optimistic and work on the assumption of having good-t-o-average weather.
With the discussion about pack size over – yes, OVER – we can now look at some of the options.
Last year, I used the 3-litre inov-8 race vest, as I was sponsored by inov-8 and, more importantly, because it is a fantastic bit of kit. I'm not a fan of the newer Race Ultra 5 and 10 set, but the Race Elite 3 is still available and is one of the bags I have tested for this year's race.
The guys at Ultimate Direction (UD) were kind enough to send me one of their Anton Krupicka 3-litre sets, which I have used for some long jollies, as well as testing out the Salomon S-Lab 3 set. There is a huge range of packs out there, but these were the three I could get my grubby mits on. Plus, I believe they are three of the best on offer.
One conundrum that has been a weight on my mind this summer has been the issue of Poles. Not the people – I love them; a tough but friendly bunch – but the trekking aids. Poles are something that can make a big difference to your efficiency on a long mountain ultra like UTMB. But where to put them?
Many packs have tried to solve this issue, but none have yet done so to my satisfaction.
Some have fancy attachments on the front, systems on the back or very intelligent ways to solve this problem. But the issue is that, at mile 80, I'm not a very intelligent man and I need things nice and simple. Eat, run, hike, drink, loop this around the pole, twist it to your back, use your little finger to hold it in place while using your big toe to tighten the knot, fall on your FACE.
The inov-8 pack does have very comfortable attachments on the back, which I can remove while on the run but I cannot, for the life of me, reattach them without causing a scene and taking the pack off. The UD pack has nothing because Tony K is too cool for poles.
This year I have solved this by sewing two elastic straps to my shorts, which means I can pop them in place and they won't fall out when I bounce down a hill like a drunken antelope. Thus, I will not be taking into account pole-carrying ability into this test. You can breath easy for now, UD.
Ultimate Direction
The Ultimate Direction bag is a masterpiece in minimalism, great for many a race and long training run, once the rib-bruising hard bottles have been replaced with softer alternatives. It has an excellent amount of space in the back, more so than the other two, so there is no issue getting mandatory kit in.
The front pockets are plentiful and secure, but they are tiny. Gels have to be strategically placed, items squashed into place and I'm still pretty sure that one of the pockets is ideal for a compact mirror to check one's coolness, which isn't mandatory kit, so isn't coming with.
One of the keys to a successful 100-miler is food and drink easy at hand, which is something I feel is very difficult with the UD pack. By contrast, the inov-8 and Salomon pack are both very good for this.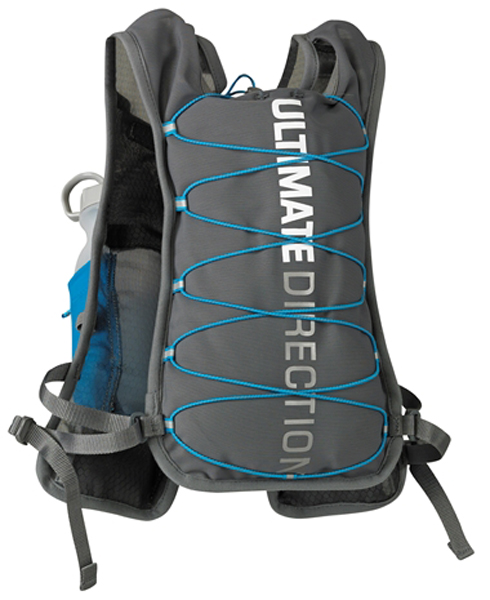 Salomon
Next up is the Salomon pack, which James has already shown in his video is a very useful, popular and practical bag for this type of event. It has so many excellent features, such as secure pockets on the front, ample back storage and a great place to stick your waterproof that is easy at hand. I really can't find any issues with this pack at all beyond pole storage.
If I have to grumble it is because of the Apple-esque bottle pockets that only fits Salomon bottles. At €19.00, these do not come cheap. And it doesn't help that the two that come with the pack have all been removed or pinched in the shops.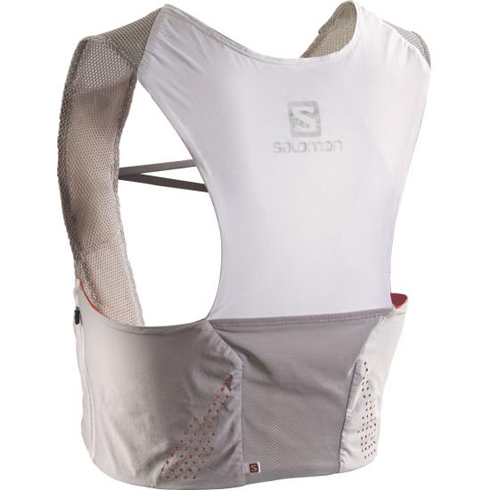 inov-8
The inov-8 is excellent in it's simplicity and you can fit a variety of bottles into its pockets. I tend to go for one 500ml bottle, easily refillable, and a pocket full of edible goodies in the other front pocket. The bag easily fits a dry bag with all your required kit. The hole on top of the shoulder, there to allow a hydration pack tube through, is perfect for gloves, one on each side and very easy to grab when the temperature drops!
My familiarity with the inov-8 pack, knowing that it remains comfortable for at least 26 hours, does make me want to stay with this trusted friend, although I cannot find fault in the Salomon bag either.
For now, I know the inov-8 race Elite 3 will do a fine job so this is most likely be on my back at the start. What will you wear?