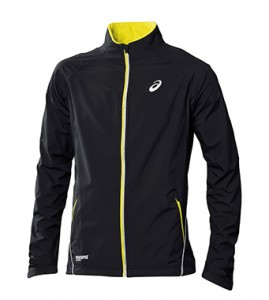 ASICS Speed Gore Running Jacket, £100
What? This jacket from ASICS uses Gore Windstopper material, which means you stay warm and dry while you run
Pros: The Windstopper fabric in this jacket is a big plus point;
it really does what it says on the tin. At the same time, it keeps you warm while the fabric also delivers great moisture management.
It also moves with you when you run, freeing up your arms to
power those hills.
Cons: Probably best to wear in colder temperatures, as, despite the breathable fabric, it can still get a bit sweaty.
Looks: Smart without being showy.
Extras: Zip pockets, flatlock stitching, reflective details.
In a word: Sleek.
Star rating: ****
www.asics.co.uk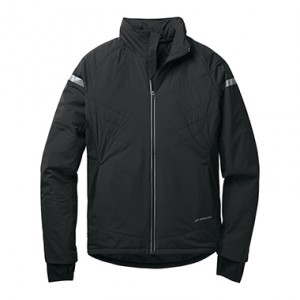 Brooks Adapt Running Jacket, £130
What? A no-frills winter performer that's water-resistant, warm and well-fitted.
Pros: It's warm enough but not so heavy that you can't run in it. Stretchy thermal panels under the arms and in the shoulders free up your full range of motion, while the stowable balaclava and front draft flap are on call when the weather gets really nasty.
Cons: It's only water-resistant, which means when you get stuck
in a heavy downpour, you'll still get wet.
Looks: Understated – this is about substance rather than style.
Extras: Thumbholes on the sleeves, side zip pockets, an internal media pocket and reflective highlights.
In a word: Safe.
Star rating: *****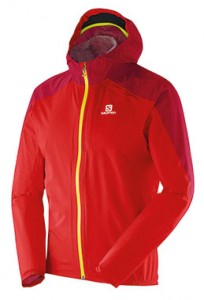 Salomon Bonatti Jacket, £140
What? Lightweight waterproof jacket designed with Motion Fit patterning specific to running; has simple detailing to keep weight down and make it ultra-packable.
Pros: If you want something to combat the elements in a lightweight, portable package, this is the jacket for you. It's breathable and waterproof, fits well, and packs down neatly.
Cons: Not many – material is a little 'rustly' but if you're stuck in a remote location and the weather turns, this is one jacket that you'll be happy to be wearing.
Looks: Slick and stylish.
Extras: Thumb loops, skin fit hood and reflective logos
In a word: Gnarly.
Star rating: ****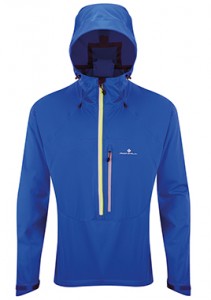 Ronhill Trail Typhoon Smock, £125
What? Three-layer waterproof and pull-on top with hood.
Pros: The word 'smock' always conjures up images of medieval garments and serving wenches, but rest assured – this is one serious running jacket. It's snug, breathable and, most importantly, fully waterproof!
Cons: Because it occupies that middle ground, can be a bit tricky
to get on and off in a hurry. Can get a little warm on long runs, too.
Looks: Classic in royal blue.
Extras: Lazer-cut zip chest pocket, rollaway, adjustable hood and reflective detailing.
In a word: Smock-tastic.
Star rating: *****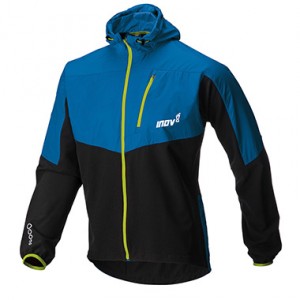 Inov-8 Race Elite Softshell Pro, £100
What? Lightweight jacket that promises the "ultimate in vital body organ protection", this is a windproof, highly breathable and
water-repellent mountain running softshell.
Pros: Weighing just 315g for men, the Race Elite Softshell Pro
was named a 2014 ISPO award winner in the performance apparel (outer layers) category earlier this year – so it's got serious credentials, and the protection it provides is excellent.
Cons: Perhaps not as fitted as you might like for fast running, and can get a little toasty on long runs.
Looks: A stylish jacket that you could even wear down the pub.
Extras: Drawstring hood, elasticated cuffs, zip breast pocket and reflective detailing
In a word: Impressive.
Star rating: ****