The last time I saw a bunch of runners disappear into a tunnel like this, it ended badly. It was 1981 and I was being forced to watch a rerun of The Railway Children. There was an unfortunate coming together of schoolboy runner and steam locomotive and the poor lad had to be nursed back to health by Jenny Agutter.
There is at least no danger of that happening today. Agutter is nowhere to be seen and besides, no trains have rattled through this tunnel since the 60s. Today's runners face a more serious problem. What on earth are we supposed to do with our GPS watches in an underground race?
All weather racing
I'm in Bath for the first meeting of this year's Two Tunnels series. Over four dates in 2017, runners are offered a selection of races from 5K to 50K, each incorporating at least one section of railway tunnel. I've chosen the Return Ticket 10K, for optimum tunnel-time. It's an out-and-back route and almost half of it is below ground – supposedly the UK's longest subterranean race.
There's little of Bath's Georgian splendour on show as we line up for the start in a windswept playing field in the city's southwestern suburb. It's late February and slab-grey skies threaten rain. But for once, we runners don't care about the weather. Because we're going underground.
Tunnel Vision
A whistle blows and we canter towards a corner of the park where there's a slithery bank to negotiate down to a tarmac path that used to be an old railway line. After a winter of marathon training, I've no idea what to expect of myself in a 10K. I'm dealing with the GPS problem by running by feel and at the moment it feels way too slow. There's a reasonably steep pull up to the mouth of the first tunnel and I decide this is a good place to speed up.
The tunnel entrance is small and once inside it's surprisingly dark. Little lights cast dim pools on the tunnel floor every few metres, but the real experience is one of enveloping blackness. The runners ahead of me all but disappear; reflective details on their shoes and clothes flashing occasionally as they pass a light. My sensory field shrinks to the space immediately around me. It all feels strangely calming.
Rail Running
The first tunnel is 408m long and we're quickly through it. Now we're running along a steep-sided railway cutting towards the main attraction, the 1,672m Combe Down Tunnel. Both structures once formed part of the Somerset & Dorset Railway. When the line closed in 1966 their entrances were sealed and the tunnels were largely forgotten. But in 2013 they were reopened by a group of local enthusiasts and Sustrans, the cycle network charity, to form a route out of the city for walkers, cyclists and runners.
Underground once more, I find myself behind a sinewy chap wearing head-to- toe compression gear and match my rhythm to his. Protected from the elements, this subterranean running lark feels easy, almost effortless. And then I realise that's because I'm slowing down. The close confines of the gloomy tunnel are flattering my speed. Lesson learned, I up my pace. The floor slopes downward and the brick and rock walls flash by.
Full steam ahead!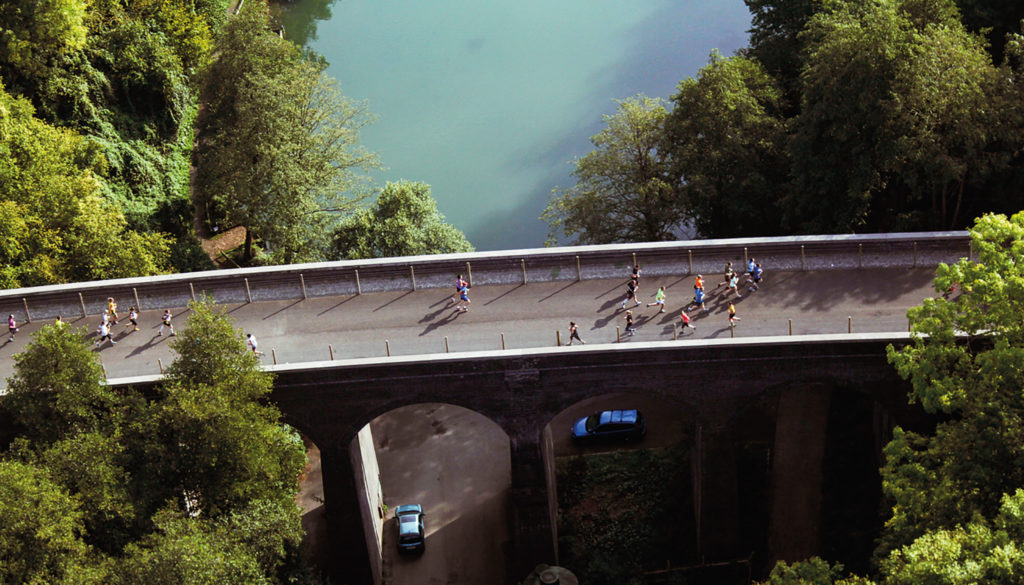 After what feels like a long time underground, we emerge to be dazzled by the weak winter daylight. We dash across an old viaduct, pass the water station and then turn and head back for the return journey. Once more into the tunnel and now the gradient is against us. The field thins out and the ghostly figures of runners far ahead briefly appear and then vanish from view. I'm puffing like the Flying Scotsman and the Combe Down Tunnel becomes a bit of a slog.
The Return Ticket 10K isn't flat but, weirdly, it is fast. Arriving at the finish line I'm astonished to find I'm only a minute off my PB. Clearly, I was helped by the downhills and not unduly hindered by the ups.
So quite a race then, combining novelty and speed. And with the possible exception of those prone to extreme claustrophobia, the chance to race through the once-forgotten catacombs of Britain's steam age deserves to be on every runner's bucket list, surely?