As someone whose competitive running these days is confined to whatever happens to be the local parkrun that week, it was with no small amount of trepidation that I entered the adidas City Run Shoreditch 10K at the eleventh hour – mainly to keep our Fitbit-powered running team company.
I need to confess that my longest run since May was 4.5 miles and while I do have a solid history of running, two calf tears this year and a general apathy have rendered me distinctly lacking in enthusiasm for any sort of race experience. And yet, I woke on race day with what can only be flutters of anticipation of standing on the start-line for the first time in 2018. And it was certainly worth the effort.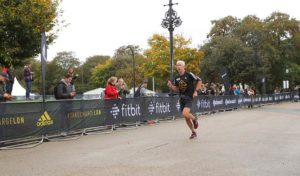 While there might have been bigger events taking place in the capital that day, there can't have been many with such an amazing atmosphere. Yes, the weather was awful, abysmal even, but it was the same for everyone. And, as the 2,500 runners stood on the start-line as the heavens opened for the umpteenth time, we all looked at each other and gave a nod that said 'yes, it's raining, but I'm here and I'm going to give it my all'.
There was a definite carnival feel to the race. The registration process was seamless, there were more toilets than you could shake a roll of Andrex at and the event village was packed in a way that belied the number of entrants: this race could definitely have coped with a field twice the size.
Navigating a 10K course around the heart of Shoreditch is never going to have loads of long, drawn-out stretches; this course weaved a route through the streets and houses of one of the coolest places in London. It would be somewhat disingenuous to say that the streets were lined with supporters but there were enough people on course to shout words of encouragement and I'm pretty sure there were a couple of bands too. The twisty-turny nature of the course was actually a Godsend as it certainly helped keep your mind off the pain of the 10K.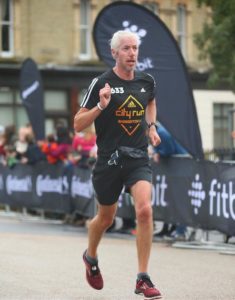 For me, my race plan was simple. Take the first couple of miles steady, try and get a bit quicker and then hold on as the unknown started to take a grip. I'd been given a nifty new Fitbit Ionic:adidas edition to test out and I looked at it religiously in those early stages to make sure I was on target.
I'm not saying it was easy, but for once I actually stuck to my plan and worked my way through to a respectable 47th place in the 2,500-plus field. It was about as good as I could have hoped for on the day, and I was pretty happy to walk away unscathed and ready for the next challenge.
The next event in the series is in Fulham on November 18th. So if you fancy a 10K with a great atmosphere (and a fancy race tee) sign up now at https://adidascityruns.com.