Hundreds of thousands of pounds were raised in York today as over 10,000 runners pulled on their trainers to celebrate the sixth running of the Asda Foundation Yorkshire Marathon.
The streets of the historic city were a cavalcade of colour as the runners made their way around the scenic course cheered on by enthusiastic spectators who lined the Yorkshire streets.
Starting at the University of York, the route took the field through the heart of the city and out into villages and country lanes before returning to the university for an electric finish. The race was officially started by Tony Audenshaw – who plays Bob Hope in ITV soap Emmerdale.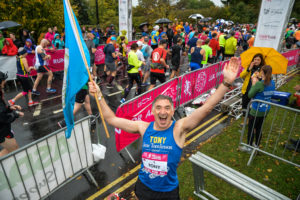 Speaking about the event, Tony said: "What an honour it was to start this year's Yorkshire Marathon, I hope everyone enjoyed the day as much as myself and fingers crossed that some PBs were achieved."
Elite athletes in the race were competing for a total cash prize pot of £10,000 and first across the finish line was Paul Martelletti in a time of 2 hours 27 minutes and 2 seconds. He was followed by Joshua Sambrock who clocked 2 hours 28 minutes and 19 seconds to take second place with Scott Harrington finishing third in 2 hours 28 minutes and 28 seconds.
The first woman home was Katherine Wood in 2 hours 41 minutes 35 seconds. Julie Briscoe recorded 2 hours 44 minutes 10 seconds to take second spot and Tracy Millmore was third in 2 hours 50 minutes 47 seconds.
The winning wheelchair athlete was Chris Nash in a time of 2 hours 15 minutes 12 seconds with Jason Richards in second place with 2 hours 20 minutes 28 seconds and Tiaan Bosch third timing in at 2 hours 26 minutes 49 seconds.
Also across the finish line was rugby league legends Kevin Sinfield and Jamie Peacock. They may have kicked their top flight playing careers into touch, but their competitive spirit remained strong on a day which saw them hand a fundraising boost to the Jane Tomlinson Appeal, a charity which supports children's and cancer charities.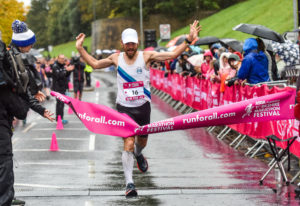 It was an emotional day for local family man Sean Coxhead. In May this year, Sean was diagnosed with incurable cancer.  After his diagnosis, Sean made it his goal to firstly start the Yorkshire Marathon but then also finish what is likely to be his last ever race.
36 year-old Sean crossed the finish line in a time 4 hours 54 seconds 51 seconds and provided a cash boost for MacMillan Cancer Support with his fundraising. Throughout his run, Sean was supported by two teams from Good Gym – where Sean is a task force member – who received complimentary entries from organisers Run For All.
Over 100 teams of runners took part in the Yorkshire Marathon Corporate Relay in a bid for the title of fastest team in the race.
Today's festival of running also included the Asda Foundation Yorkshire 10 Mile, which attracted around 4,000 entrants and was started by Educating Yorkshire favourite Matthew Burton after the marathon.
The 10 Mile race was won by Joshue Rowe in 51 minutes 38 seconds, with Dean Newton second in 52 minutes and Jose Sagar taking third place in 52 minutes 57 seconds. First woman home was Lorna Young who clocked 1 hour 2 minutes 14 seconds. Rebecca Moran finished second in 1 hour 3 minutes 32 seconds and Amy Young was third in 1 hour 3 minutes 33 seconds.
Mandy Hepworth, Asda Foundation coordinator, said: "Many congratulations to everyone who crossed the finish line today. There was a tremendous atmosphere and it was truly inspirational to see so many people taking on such a tough challenge, many of them raising money for some excellent causes. Well done one and all."
Tristan Batley-Kyle, head of events at organisers Run For All, said: "The sixth running of the Asda Foundation Yorkshire Marathon was a great success and we are delighted that the event continues to go from strength to strength.
"We would like to thank everyone – the runners, spectators, sponsors, partner organisations, charities and particularly the many volunteers – who have helped make today's run such a success."
Many of the runners were raising money for a good cause and the event is expected to raise hundreds of thousands of pounds for charity.
The Asda Foundation Yorkshire Marathon's partner charities are the Jane Tomlinson Appeal, Macmillan Cancer Support, Candlelighters, The Children's Hospital Charity, Alzheimer's Society, Martin House Children's Hospice, Forget Me Not Children's Hospice, St Leonard's Hospice, St Gemma's Hospice and the Stroke Association.
The marathon is staged under the umbrella of Jane Tomlinson's Run For All, the not-for-profit organisation behind the popular Asda Foundation 10K Series, plus, half marathons in Leeds, Sheffield, Hull and Derby.
These events, along with the marathon, stand as part of the lasting legacy of the late fundraiser and campaigner Jane Tomlinson who raised almost £2m for charity by tackling a series of epic challenges, including cycling over 4,000 miles across America, despite being diagnosed with incurable cancer.
The marathon is supported by Asda Foundation, Aftershokz, Up & Running, Runderwear, LTS, City of York Council, High 5 Sports Nutrition, Erdinger, University of York, Yorkshire Post, bananakick, York Sport, Arla Protein, BBC Radio York and Hertz.
Entries are now open for the 2019 Yorkshire Marathon at www.runforall.com and are available for £40. Runners are advised to enter as soon as possible, the Yorkshire Marathon has sold out every year since its 2013 launch.