There can be few more scenic marathons, and certainly fewer in London, than the Thames Meander Marathon. The Thames towpath is a regular route for runners training for the London Marathon, but it's rarely raced upon. This race is a chance to enjoy a unique trail marathon that literally meanders through the city in beautiful and historic surroundings.
The race starts at the Hawker Centre in Kingston, a site with a rich history: it was here that the famous Hurricanes and Spitfires that helped win the Battle of Britain were built.
Although over 500 runners are taking part, registration and bag check are both smooth and there's plenty of space to warm-up – so bang on time at 10am we're off.
Good for age ambition
Starting with a short out-and-back towards Kingston Bridge, the route then passes back past race HQ and onto Teddington Lock, which marks the limit of the tidal Thames.
The tarmac path gives way to a more uneven towpath from this point. Even with a relatively dry week leading up to the race, there are plenty of muddy puddles to avoid, but generally the going is firm.
That's great news as my goal is to set a 'Good For Age' time: anything less than 3:20 would be good enough, so my plan is to run even-paced, going through halfway in 1:38, and allowing four minutes to cover the inevitable slow down on the way back.
Normally I'd get through a long race like this listening to podcasts (Football Weekly and Test Match Special are my regulars), but despite the largely car-free route, iPods are banned with the threat of a DSQ due to some busy crossing points.
Tranquil London Trails
There are plenty of sites to see along the way though. We pass Ham House at four miles, with Marble Hill House on the opposite side of the river, before the towpath reaches Richmond. (England are playing Scotland in the rugby so some fans are already getting in an early drink as we run past!)
The route continues past Old Deer Park where it transitions to a quiet trail taking you alongside Kew Gardens and to Kew Bridge, which is the turnaround point for the half marathon. We continue on the towpath on the south side of the river, passing Chiswick Bridge and the finish point of the historic Oxford and Cambridge Boat Race.
After Barnes Bridge, there's a wooded and quiet section towards Hammersmith, the tenth and final Thames crossing we pass before the turn at Barn Elms, level with the London Wetland Centre.
Dodging drinkers and keeping focus
I hit the turn point at 1:38:30, which is bang on target, so I focus on enjoying the run home and staying on pace. My nutrition is going to plan: I've stuck to my tried-and-tested routine of one High5 isotonic gel every 30 minutes, alternating caffeine with non-caffeine and that seems to be doing the job.
As I near Richmond again and pass the dreaded 20-mile mark I'm still on track for my sub-3:20 goal with no 'wall' (other than that created by the hordes of rugby fans now spilling out of the pubs onto the towpath) in sight.
This is where I could really do with some tempo-boosting tunes. After Richmond, the path is sparsely populated and my concentration slips. ("Oh look, a heron/ I wonder what it's like to live in a houseboat?/ What a cute dog!" etc.)
Finding flow by the river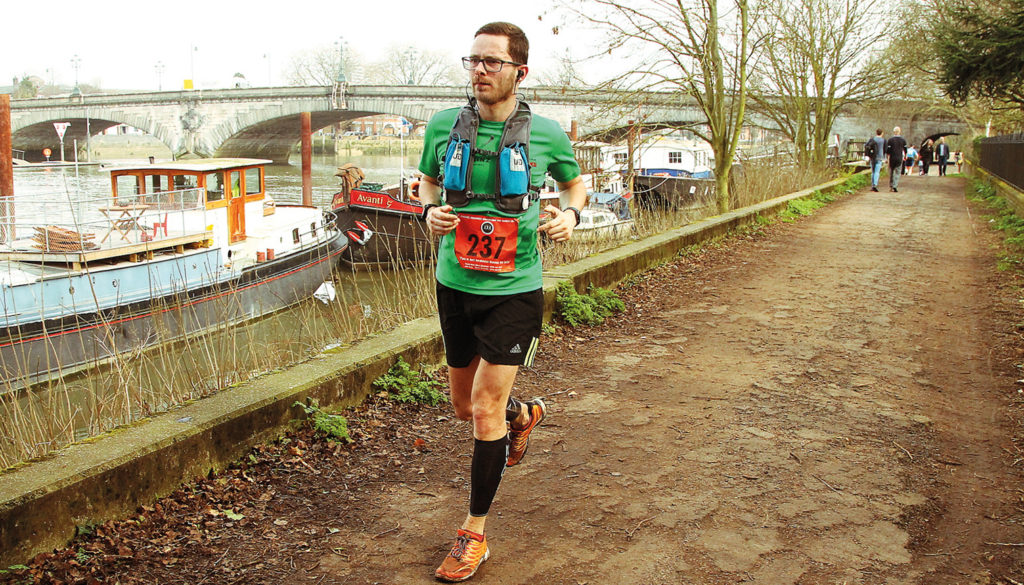 You only need to let your focus slip for 10 minutes and that can be your race plan ruined. I start mentally repeating my mantra, "Smooth running. Feeling confident." I try to forget about the actual finish and in the words of Dory, "Just keep going."
When I pass the race start/finish for the final out-and-back, I'm still not 100% sure I'm on track. However, once I hit the final turn at 3:07 I know I can relax at last. I smile through that last mile and cross the line in 3:16:32.
It was a long day out without an iPod, and unlike ultrarunning the pace was too high to get in conversation with other competitors, but I'd still recommend this race. Flat and scenic, it's a beautiful place to spend a few hours running!
BY THE NUMBERS
2:36:46 Edward Catmur's course record
25/08/2011 The first ever Thames Meander Marathon
8:55:33 The record for the "triple" (March, August and November marathons)
740 The highest number of runners in November 2014
8 The number of Thames meanders Jonathan Radcliffe (Herne Hill Harriers has run)