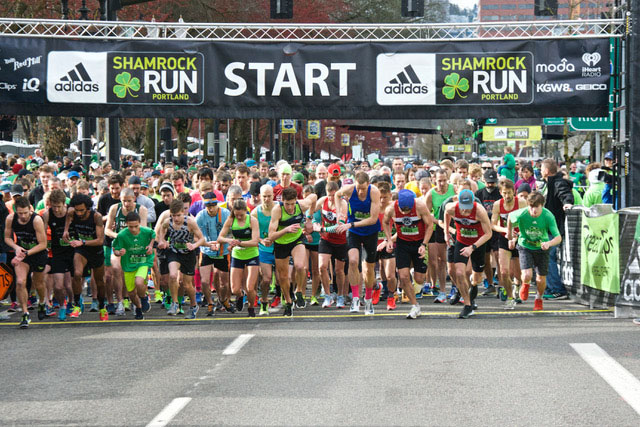 Hi Alex, we're very jealous of your trip to Portland – was this your first visit?

I'd been a couple of years ago, during a whistle-stop tour down the south coast of America. I stopped in Portland for one day, so didn't really see that much of it – other than a few of the breweries it's famous for!
How long have you been a runner?
I've been a runner – caught in a love-hate battle – for about four years now. I've been doing sports for most of my life, but I slowly came to the realisation that if I wanted to keep eating pizza and drinking beers, I needed to do something to balance those things out. I do quite a bit of travelling with work, and running is something I can do anywhere – I just need a pair of trainers. I signed up for some 5Ks and 10Ks, and it's just been maintaining it that's been the hard part. The 15K I ran in Portland was actually the furthest I've ever run.
How did you find that step up in distance?

It wasn't actually that bad, because the prize was for me and a friend, so I ran with him – he's done loads of running – and he helped me stick to an easy-to-maintain pace. Whenever he was flagging, I wasn't, and whenever I was flagging, he wasn't, so we pulled each other through.
What was the course like?
I had no idea of the topography of the course…I soon found out it was hilly! When we went to the race expo the day before, I jokingly said to a bloke manning one of the stands, "I hope it's flat," and he replied, "No, no, it's the opposite." So that didn't help the pre-race nerves!
Looking at [the course map on] my Garmin afterwards, it starts at sea level and goes up to 150m. The first 7K was entirely uphill. But there was lots of music on course, which helped – I'm pretty sure I heard a steel band playing 'Eye of the Tiger' at one point, which was quite motivating.
It started off in Portland, by the river, and went up, out of town, into a really nice, scenic, wooded area with views out over the city. When we got to the top of the hill there was a cable car ferrying people up and down, so I guess that tells you all you need to know about how hilly it was!
Has the Shamrock Run opened your eyes to a world of running beyond 10K?

Yeah, 100%. Prior to the race, I thought, there's no way I can go all the way to America and just do the 5K, so I entered the 15K but only had a few weeks to train for it. But I got round, off the back of minimal training – and quite a heavy previous night celebrating St Patrick's Day! – and it wasn't that bad, so I thought, I could do a half marathon. So I've just signed up for the Cardiff Half, later this year.
Would you recommend the race to any MR readers who happen to find themselves in Portland this time next year?

It was such a good atmosphere. Americans in general are so happy and friendly and enthusiastic, and that's just what you need during a race! Everything afterwards was great, too: there were live bands, a big marquee with free beer and free soup, loads of free protein shakes and bars and all that stuff. It's made me think that when I'm next abroad, I'm going to see if any [running] events are on, because they're a great way to see a place.
For details on next year's race, head to motivrunning.com/shamrock-run-portland