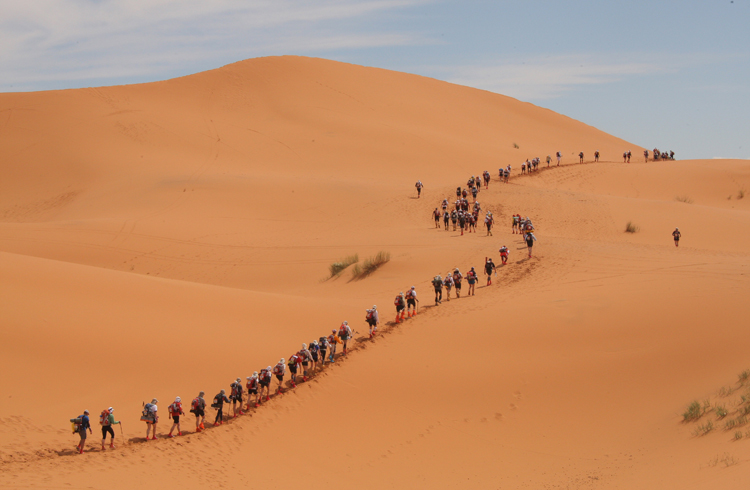 Marathon des Sables
Marathon des Sables (MdS) took place in Morocco from 3-13 April. This was the 30th year of the MdS and it proved to be one not to forget. It included the longest ever day of any MdS (91.7km) and drew a very competitive field. Britain's Danny Kendall finished in a highly commendable eighth place, but he could do nothing to prevent a Moroccan one-two-three of Rachid El Morabity, Abdelkader El Mouaziz and Aziz El Akad.
Further back in the field, Sir Ranulph Fiennes became the oldest Briton (71) to complete the punishing Marathon des Sables, finishing with just 13 minutes to spare. He went on to describe the race as "more hellish than hell" and when asked if the achievement was worth it, simply replied: "It depends on how much money I have raised [for Marie Curie]." for What a champ.
Top men's and women's finishers below:
Men
Rachid El Morabity(Morocco) 20:21:39
Abdelkader El Mouaziz (Morocco) 20:35:23
Aziz El Akad (Morocco) 21:06:57
Women
Elisabet Barnes (Sweden) 26:42:13
Anna-Marie Watson (United Kingdom) 29:40:19
Natalia Sedykh (Russia) 29:54:39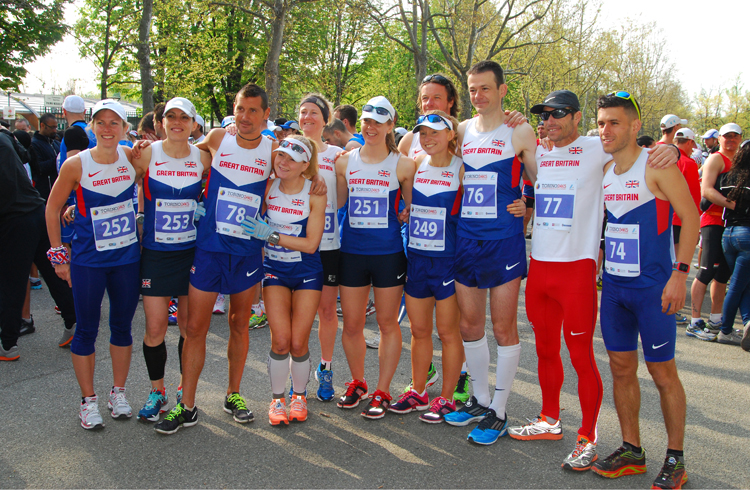 24 Hour World Champs
The IAU 24 Hour World and European Championships took place on 11 April in Turin, Italy. The course was a very 'scenic' 2K loop, including about 5m of elevation gain per lap. This may not seem like much but over 100+ laps, it adds up to more elevation gain then some 100-mile trail events! It was a great day for Team GB, who took home the team gold, with special mention to Robbie Britton who picked up an individual bronze medal.
The individual and team results below:
Individual men:
Reus Florian (Germany) 263.899km
Szynal Pawel (Poland) 261.181km
Robbie Britton (UK) 261.140km
Individual women:
Katalin Nagy (US) 244.495km
Traci Falbo (US) 239.740km
Maria Jansson (Sweden) 238.964km
Team results:
Gold: United Kingdom
Silver: Australia
Bronze: Germany
The headlines:
Barkley Marathon- Frozen Head State Park, USA. This is one 100mile absolute beast, so much so, not one person finished the full distance this year. In the 30 year history of this event there has only been 14 finishes. If you think you have what it takes… Sign up?
What would you vote for as UK's Best Mountain Route?
Spring Marathon Season s upon us, and although its not strictly Mountain Ultra Trail Running, a big shout out of good luck goes to everyone taking on the Marathon Challenge in Spring 2015- Boston, London, Manchester, Paris, Rotterdam, Manchester, Athens, Spreewald, the list goes ooonnn
This is one good stance against drugs in sport from 24hr World Championship Bronze medalist Robbie Britton.
Nutrition is key in training, racing and all around running enjoyment. Please be careful of these misleading labels on your food choices! Run well, eat well
Ultra running (and running as a sport entirely) should be open to all. Unfortunately Australia is a little behind the times here
Video of the month:
Watch a great down-to-earth account of real people training for a real monster of a race, The Cruel Jewel 100: