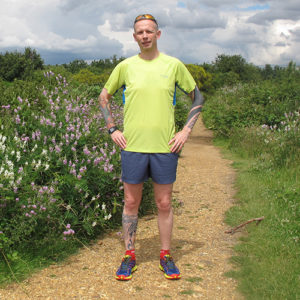 Why did you apply to be part of Project Trail?
It was the perfect distance. I've gone 'ultra' before, but only a 50K. I kept thinking, "Does this really count as an ultra seeing as it's only a parkrun-and-a-bit further than  marathon" So it's time to put those demons to bed and do a  'proper' ultra. Also, who could resist the chance to eat pork pies and pizza at the legendary aid stations?
What's your running history?
I started running about two years ago when I sensed there might be more to life than bar-hopping. I joined the gym and stepped onto the treadmill. One kilometre later I got off, destroyed but strangely satisfied. Shortly afterwards, I started running outside. This is where all the trouble started and I got the running bug big time. I realised off-road running was where I belonged.
What's your greatest running achievement?
The Canalathon that I ran earlier this year. It's along a canal, obviously, and is 50K in length. I actually ran that before I'd run a marathon. It's not an approach I'd recommend people to follow, but I managed to get it done.
What do you like most about trail running?
Without wishing to sound like a misanthrope, I like to get away from people! I live in Manchester so I can hop on the train and be in the Peak District in half an hour. You can run up there for two hours and not see another person, and that can be a great way to clear the head.
What do you find appealing about an ultra distance race?
Whatever I do, I like to really give it my all and this usually means taking it to an extreme. As soon as I knew I enjoyed running, it was inevitable I'd take this as far as I can. From a parkrun a couple of years ago, I've been steadily increasing the distance and really want to see how far I can go.  Who wouldn't want to be badged as an ultrarunner? There is badge, isn't there?
Who, if anyone, is your running hero?
This is a really difficulty one for me as I'm new to the sport and haven't really followed any of the true heroes over the years.  Reading about Nicky Spinks running a double Bob Graham Round – something I'd never heard of a few years ago – is a major inspiration.  To run a legendary route…. and then do it again just shows how far us humans can push ourselves.
Describe yourself as a runner in one word
Hopeful.