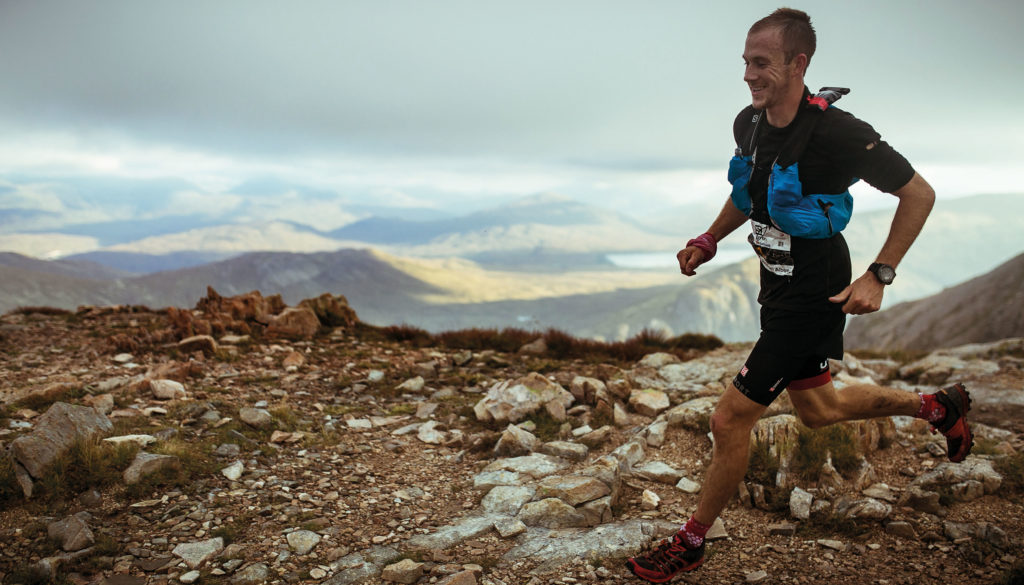 "If you fall, you will die," says Jon Albon of the most technical section of Scotland's new Extreme SkyRunning race.
The 27-year-old Brit has won the Obstacle Course Race World Championships three years running but the race he is talking about didn't involve leaping fire pits or swimming through mud bogs in a crowded field. No, this is a straight-ahead running race: the Salomon Glen Coe Skyline.
Mountain running races are now taking competitors through terrain once tackled only by rock climbers. Albon went on to win the Glen Coe Skyline in 2016, and came second to trail-running-legend Kilian Jornet in 2017. Here, he explains to MR the skills he needs to tackle such technical terrain.
Scrambling
Six miles into the Glen Coe Skyline, competitors are confronted by the Grade 3 scramble called Curved Ridge. It is here that Albon recognises the potential risk of death as "runners" climb the 450m rock buttress in only 700m total terrain covered.
"This section had the most serious consequences and exposure of any race I have run," Albon admits. Since his first obstacle course race age 20, the British athlete ran increasingly extreme events. "When I discovered Skyrunning though," he says, "that's when everything clicked."
The Scottish race is described by the organisers Ourea Events as 'a fusion of alpinism and mountain running'. Getting up Curved Ridge requires an ability to 'read rock' and put your body in the correct position to make the upward movements. And a CV with specific scrambling or previous rock climbing experience would definitely be handy.
"During this early stage of the race," Albon reflects, "I was concentrating on being safe and ensuring I had enough contact with the rock." Although he went on to win the race, he was in fifth place on the climb, explaining that worrying about position so early in a race and in such serious terrain is a dangerous tactic.
Instead he just tried to keep as relaxed as possible, looking for the best handholds and driving his weight upward with his feet, rather than his arms.
His experience of monkey bars and swinging between nunchuck-style grips in obstacle course races had helped Jon develop hand and finger strength for Curved Ridge. "A good Friday night out for me is going to the climbing gym with mates. Time flies much faster than mindlessly just cranking out pull-ups."
Rocky descents
At the 33K mark, you tackle the longest, most sustained and technical descent to checkpoint 11 on the A82. "There are lot of challenges in obstacle course racing," Albon explains, "such as the log jump, that mimics what you do in a natural mountain environment." Similar power and strength in your legs is required on the descent from Bidean nam Bian where competitors confront large, jarring rock steps, lots of loose gravel and slick stone slabs.
"Staying relaxed and swinging your arms into turns will maintain balance and keep the momentum going," advises Albon.
Seeking out similarly challenging rocky descents before the race is vital. Albon lives in Bergen, Norway. The mountains aren't as big as the Scottish Highlands, but the race winner hunted out narrow animal trails to train on, or just ploughed straight off-piste down the mountains.
"You know you are training in sufficiently challenging terrain," Albon explains, "if you are having to concentrate on foot placements." Recovery is also quicker from this kind of session because you cover less ground. "The distance isn't important; it's time in the hills that matters."
Exposed ridges
By 35K Albon had moved into first place. Ahead was the Aonach Eagach ridge, a Grade 2 scramble along a 1.5K knife-edge ridge.
"It was smashing down with rain the day before the race but my wife and I set out regardless to recce the final challenge of the Glen Coe Skyline."
Albon described that previewing what is known locally as The Devil's Staircase would get him emotionally prepared and help him find efficient lines through the rocks.
Some competitors took up to two hours to clamber through this short section of the ultra distance race. Albon took just 35 minutes, admitting there might have been a couple of places where he jumped between rocks, but he felt he completed the ridge at a safe and comfortable speed.
"If you are running a road race you can get pulled along productively by the pack," he explains, "but it's different on super technical ground because everyone's got such different skills. Getting dragged along at someone else's speed is really dangerous."
Technical Terrain Tips
Seek out the race terrain you will tackle in your training
Recce most challenging sections of the route
Hydrate and eat on non-technical terrain to arrive well-fuelled
Concentrating on being happy and enjoying the experience
Use Merino wool to keep warm when moving slowly on rainy days
Try VJ Sport orienteering shoes: sticky rubbers soles and abrasion resistant Kevlar (vjsport. /en/shoes)