I remember the snow biting my face, the wind pushing me off my sledge and the screams of joy, that I assumed my own, bouncing off the surrounding hills that dwarfed my child-sized figure.
I was supposed to be at school, after all. It was my birthday. I don't remember which one because every birthday was spent in the same manner before global warming stole the Peak District's snowfall each year.
At some point Mum and Dad moved to Essex for a new job and as little people who knew nothing of survival we had to follow them.
We hated it. People spoke differently, our huge National Trust playground had been taken away and worst of all – sledging on my birthday was never to happen again.
We got used to the Essex life and I found new thrills in throwing bikes down muddy hills and donning tiny running shorts and exploring the woods.
It even snowed a couple of times and I'd be up at first light, grab my trail running shoes, rather than a sledge, and revisit the love I had as a child making the first tracks in a brand new landscape.
In March this year I was lucky enough to be invited to Chamonix by a friend. The poor snow season had taken a turn for the better and powder lay deep in places.
I took no time at all, packed my Salomon SnowCross shoes and caught the first flight out.
The snow was patchy at best in town but on the slopes it wrapped the mountain like a fur coat with only the wild extremities visible.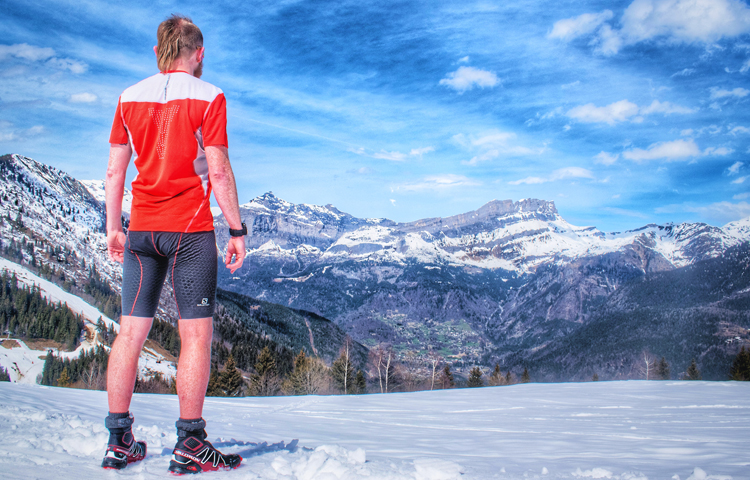 Mont Blanc, the highest peak in Europe, stood over me, like a white shadow, watching as my dad had done when I was a kid.
I had no idea where I was going but set off uphill.
First-time skiers, hanging onto button lifts for dear life, dropped their jaws as I ran past them on the nursery inclines with a wave and a terribly anglicised "Bonjour".
The 2,000m altitude and steepening pistes soon had my lungs pushing against my ribs gasping for oxygen as lactic acid tore through my legs like glass.
But a smile still peeked out behind my screwed up features. I knew what was coming…
At the top of the resort I wrapped my arms around me to keep the wind from pick pocketing my warmth and took in the surrounding mountain tops – jagged, rough but pristinely beautiful.
The Peak District is always going to be my 'most beautiful place in the world' but I have to say the Alps ran them close that day.
The magnetism of this view kept me stationary for too long and a shudder ran through my body. It was time to move.
A blue slope ran around the mountain, but even a blue slope offers you the chance to get your legs moving.
I passed snowboarders edging down on their bottoms and skiers flew past me shouting in various languages "Bravo", "Alle Alle", "Hop hop", "What a tosser" (We Brits can be brutal).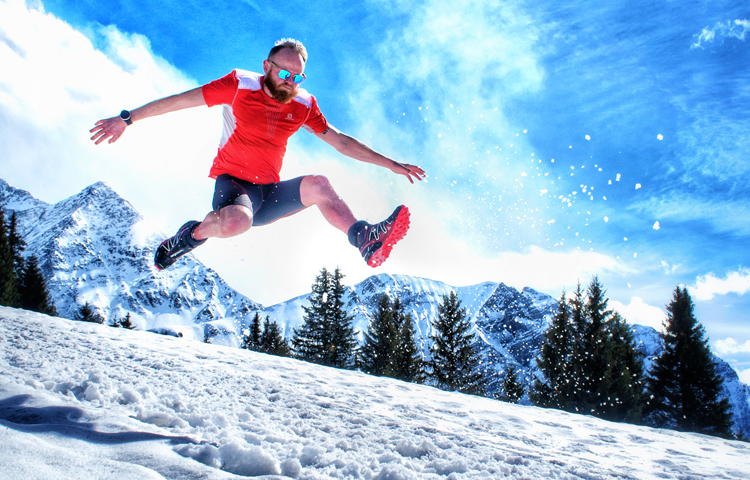 On a 5m-wide path that negotiated a near cliff on both sides a sign blocked the way, seeing it as a challenge I lept over it only to read in mid-flight: 'Ferme, Closed'.
I had time in the air to worry but I needn't have. The short fall ended in deep snow that exploded as I landed which in turn led to a black run I'd seen earlier.
It was the steepest slope I've ever run, a trip would have me sliding hundreds of feet, but my shoes held true and hurling myself as if from a cliff my legs rotated as fast as they could to keep me upright.
Without a thought on anything else, my mind totally focussed on the present moment, I reached the bottom where the stares from onlookers and echoes suggested I'd been screaming for joy as I'd done all those years ago.
Making my way over to the lift, the only way out without wading through waist deep snow for hours on end, the lift handler looked at my bare, reddened legs and said, "No skis, no lift," in that French accent that hits your eardrum like music.
There was only one thing for it – I turned and started the lung busting run back up the slope.
Lying on my friend's couch that evening after eating a raclette, consisting of a piece of cheese as big as my head, a bowl of potatoes and a basket of bread, my body sighed.
Exhausted beyond measure, sleep washing over me, I just couldn't wait to get back out there again tomorrow.
Watch Danny going off-piste:
Photo credit: Ben Arthur